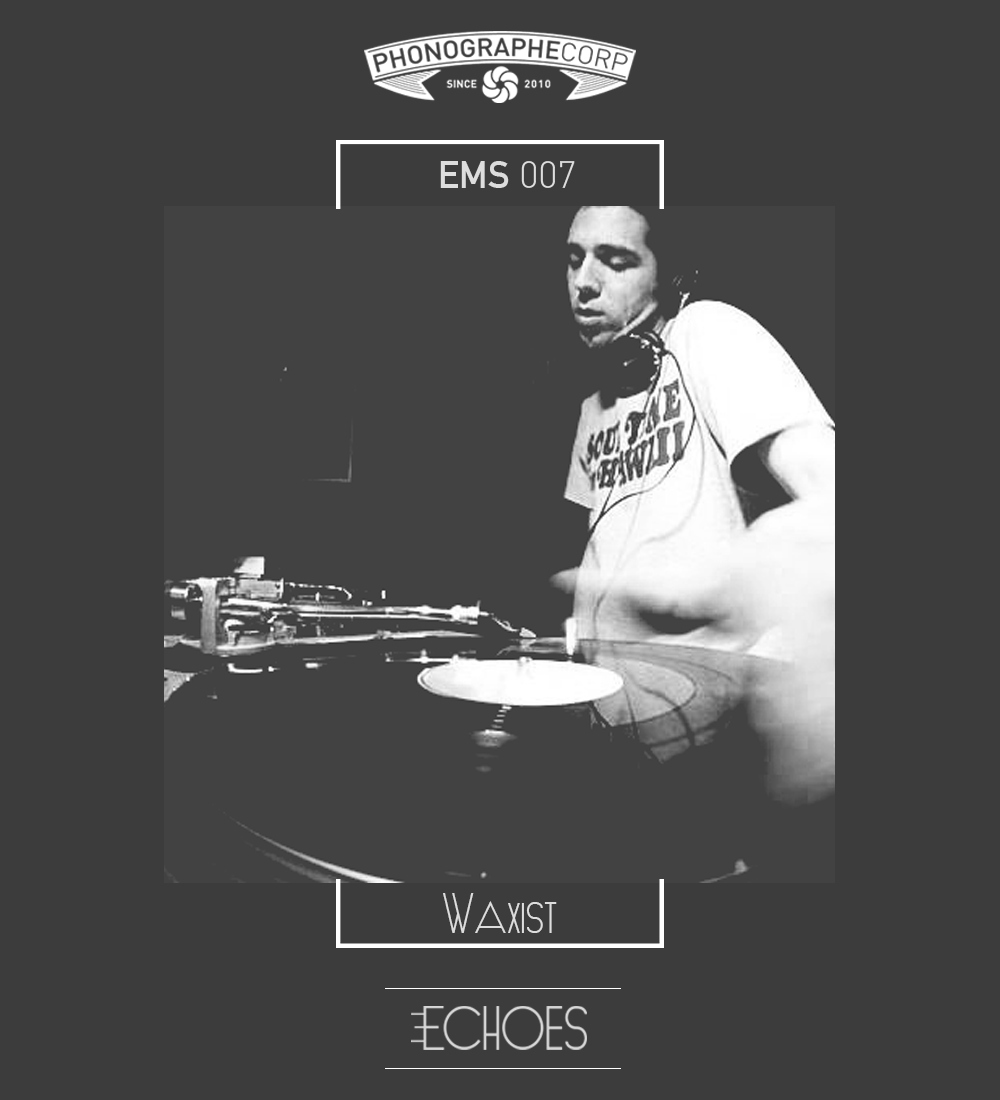 Pour le 7eme EMS on a l'honneur de recevoir Waxist Selecta. Souvent visible sur notre site pour des compilations et Edits de morceaux autant rares que musicalement exceptionnels, Julien fait partie des diggers et DJ que l'on suit de très près. En effet, il s'attelle avec une énergie et une sincérité plus que débordante, à faire partager son amour pour la musique. A l'appui, un magnifique edit de Sheila Hilton sortie récemment, ainsi que la réédition du « on the radar » Feel so good de Lamar Thomas. Cela ne s'arrête pas là, les projets sont encore nombreux pour 2015, notamment avec la participation à la seconde compilation de culture of soul Tropical disco Hustle, ainsi qu'un edit de Relax du Painel de Controle sur Favorite! Waxist garde le même esprit aux platines et on est donc aujourd'hui plus que ravi de vous proposer la sélection brésilienne de Julien, accompagnée de quelques réponses à nos questions !
For the 7th episode of EMS, we are pleased to receive Waxist Selecta. Several time mentionned on our webzine for his compilations or edits of rare and wonderful tunes, Julien is among the diggers and Dj we follow with special care. With sincerity and ernergy he is always trying to share his love for music. As a proof (if needed), he made a recent edit of a beautiful track of Sheila Hilton and his recent re-edit of « On the Radar » Feel so good from Lamar Thomas. But the guy doesn't stop here and its projects are numerous for 2015, especially with his participation to the second compilation from culture of soul Tropical disco Hustle, and his edit of the track « Relax » from Painel de Controle on the label Favorite. Waxist keeps the same spirit behind the decks and we are then very happy to offer you Julien's selection, and a nice interview presenting himself and his work.
Pourrais-tu te présenter et présenter Red Stripe Disco ?
Could you present yourself, as well as Red Stripes Disco?
Je m'appelle Julien Minarro, Waxist en tant que DJ. Je suis revenu m'installer à Lyon il y a environ 2 ans après 6 ans en région parisienne. Mes sets sont très tournés 70's et Rare Grooves. Ça va de la Soul au Boogie du début des années 80, en passant par le Disco, la Modern Soul, le Jazz Funk etc.
My name is Julien Minarro, Waxist as a DJ. I moved back to Lyon approximately 2 years after 6 years of living in the Parisian suburbs. My sets are primarely focused on the 70s and on Rare Grooves. It goes from Soul to Boogie of the start of the 80s, up through Disco, Modern Soul, Jazz Funk, etc.
Pour « Red Stripe Disco » il n'y a pas vraiment de concept. Le nom est une association de « Red Stripe » (qui est une bière jamaïcaine) et de « Disco ». Ça m'est venu en cherchant un nom intéressant pour un mix que j'avais fait il y a quelques années, basé sur des trucs pas trop grillés en Soul, en Funk et Disco produits en Jamaïque ou liés à ce pays via sa diaspora aux quatre coins du globe. Initialement, c'était juste le titre d'un mix, puis il y en a eu un deuxième, puis un troisième sur la même thématique au fur et à mesure que je « creusais » ce créneau. Je viens d'enregistrer le volume 11 il y a quelques semaines et je commence à préparer le volume 12 qui va être pas mal.
As for « Red Stripe Disco », there is no predefined concept. The name is an association of « Red Stripe » (which is a Jamaican Beer) and « Disco ». It came to me during the naming research I went through for a mix I did several years ago, based on obscure Soul, Funk and Disco, produced in Jamaica or linked to that country through its worldwide diaspora.  It only was the title of he mix, until a second one came through, and the third, on this same topic, as I digged this niche. I just recorded the 11th volume a couple of weeks ago and I'm starting to prepare the 12th which is hopefuly going to be a nice one.
En parallèle, pour ces mixes, j'avais une paire d'edits de morceaux jamaïcains pour mon propre usage. Quelques personnes m'ont demandé d'en sortir et du coup j'ai réalisé une première sortie vinyle très confidentielle avec cet edit de Jennifer Lara qui reprend le track d'Evelyn King « I Am In Love » en 7'', suivie d'un autre 10'' quelque temps plus tard. Red Stripe Disco c'est donc une série de mix basée sur les sonorités Soul et Disco en provenance de Jamaïque et des sorties d'edits plus occasionnels sur cette même thématique. J'ai quelques autres projets de sortie d'edits pour Red Stripe Disco mais j'ai manqué de temps et d'argent récemment pour les finaliser.
In parallel, for these mixes, a had a couple of edits of Jamaican tracks for my own personal use. Several people asked me to release some of them and that's how I made a first very confidential record release, with Jennifer Lara's edit, who reworks Evelyn King's « I am In Love » in 7'', followed by another 10' some time after that. So basically Red Stripe Disco is a series of mixes based on Soul and Disco rhythmics coming from Jamaica, as well as more occasional edit releases on this same thematic. I also have other projects of edits for red Stripe Disco, though I'm afraid I lacked time and money to finalize them.
Tu travailles également avec d'autres labels tels que Favorite Recordings. Quelles sont tes différentes activités ? Comment en es-tu arrivé là ?
You are also workinh with other record labels, such as Favorite Recordings. What are your different activities? How did you get here?
Je travaille avec Favorite Recordings depuis peu, ainsi qu'avec quelques autres labels notamment Cultures Of Soul aux US. J'ai également eu une release cette année chez Golf Channel avec cet edit de Sheila Hylton. Pour mon travail avec Favorite et dans une moindre mesure avec Cultures Of Soul, mes activités consistent à bosser sur des rééditions avec eux, en leur proposant des projets. Bien souvent, j'apporte aussi des edits des morceaux pour compléter la sortie si cela s'y prête. Je les aide à réaliser le boulot consistant à rechercher les artistes et producteurs impliqués, leur proposer le projet de rééditions et coordonner la relation avec le label.
I've been working with Favorite Recordings since a small amount of time, and also with other record labels such as Cultures Of Soul. I also did a release on Golf Channel with this Sjeila Hylton edit. As for my work with Favorite, and to a lesser extent with Cultures Of Soul, my activities consist on working on reedits with them, offering them projects. Quite often, I also bring edits of tracks to supplement the releases where appropriate. I help them go through the work of researching artists and producers, offering reedition projects  and articulating relations with the record label.
Cultures Of Soul m'a demandé de participer à leurs compilations « Tropical Disco Hustle volume 1 & 2 » en apportant des edits. Je les ai aussi aidés à coordonner le licensing pour le morceau de Camille Soprann Hildevert dont mon edit sortira sur le volume 2 prochainement. Finalement, avec ces deux labels, les choses se sont faites assez naturellement … Je pense que l'on a pas mal d'affinités musicales en commun avec les boss respectifs de ces labels (Jeff Swallow pour COS et Pascal Rioux pour Favorite) … Ils m'ont proposé de travailler avec eux et je suis très heureux de pouvoir contribuer à ces projets de rééditions !
Cultures Of Soul asked me to contribute to their « Tropical Disco Hustle volume 1 & 2 » compilations, bringing edits. I also helped them coordinate the licensing for Camille Soprann Hildevert's track, which's edit will be released shortly on the 2nd volume. In the end, with these two record labels, everything happened very naturally… I think that the labels' bosses labels (Jeff Swallow for COS and Pascal Rioux for Favorite) and I share several common musical affinities … They offered me to work with them and I'm very happy to be able to contribute to these reedit projects.
Tu es un grand fan de Disco Jamaïcaine, un genre très spécifique du Disco. Comment as-tu pris goût à cette niche du Disco ? Es-tu déjà allé sur place ? Si oui, comment as-tu vécu la musique là-bas ?
You're a huge fan of Jamaican Disco, a genre which is very specific to Disco. How did you get interested to this Disco niche? Did you ever get the chance to go there? If so, how did you experience music there?
Effectivement, c'est une partie de la production musicale Jamaicaine que j'adore en effet. Je ne sais pas si on peut parler de 'genre' à part entière, mais il est sur que l'île a produit un joli paquet de morceaux bien funky / disco qui sont souvent passés inaperçus ou restés confidentiels, car très différents des sonorités plus « roots » qui l'ont rendue célèbre dans le monde.
Indeed, it is a part of the Jamaican musical production that I love. I don't know if we can actually refer to it as a fully-flegded 'genre', but what we could say for sure is that the island produced a nice package of very funky/disco tracks which often went unnoticed or stayed confidential, because of their less « roots » rhythmics which made it worldwide famous.
J'ai toujours écouté et entendu du reggae dans ma vie, depuis l'enfance. Mon daron était un grand fan des Wailers. Les premiers vinyles que j'ai achetés étant ado, c'était des trucs comme Johnny Osbourne, Horace Andy etc. En fréquentant les boutiques de disques, tu t'ouvres forcément à d'autres styles. C'est quand j'ai commencé à écouter beaucoup de Soul/Funk que je me suis rendu compte que les Jamaïcains (comme beaucoup d'autres) avaient réussi à « intégrer » cette influence Soul / Funk / Disco dans leur propre musique.
I've always listened to reggae in my life, since my childhood. My father was a huge fan of The Wailers.  The first records I bought as a teenager, were things such as Johnny Osbourne, Horace Andy, etc. Sticking around in record shops, you necessarily open up to other genres. From the moment I started to listen to a ot of Soul/Funk I realized that Jamaicans (just as many others) had managed to « incorporate » this Soul / Funk / Disco influence in their own music.
De là, j'ai commencé à faire des recherches sur ces morceaux bien spécifiques, pas faciles à trouver, car c'est un style peu documenté. Ça a donc donné 11 sets « Red Stripe Disco » et je travaille sur une compilation officielle depuis quelque temps sur le sujet. Je n'ai encore jamais pu aller là-bas, mais j'espère bien pouvoir le faire un jour.
From this moment forward, I started to research these specific tracks, not easy to find, because it's a genre which has poorly been documented. This resulted in 11 « Red Stripe Disco » sets and I'm also currently working on an official compilation on the subject. I never got the chance to go there, but I hope I might as well be able to someday.
Aujourd'hui, tu as fait un podcast dédié à la musique brésilienne. Comment as-tu conçu le mix? Peux-tu nous en dire plus sur ta sélection?
Je viens d'avoir un bébé il y a un mois environ donc la conception du mix a été un peu différente de ce que je fais d'habitude. Il a fallu quelques semaines pour arriver à l'enregistrer. À chaque fois que j'arrivais à trouver quelques minutes de libres, je fouillais un peu mes disques brésiliens & je bossais la sélection sans pouvoir y consacrer trop de temps. Et puis quand la sélection a été à peu près calée, j'ai réussi à me ménager une petite heure pour l'enregistrement.
I just got a baby, a month ago, so the conception of the mix has been a bit different from what I usually do. It took me a few weeks to get it recorded. Everytime I had a break I would dig in my old bresilian vinyles working on the selection but without having much time to do so. And when the selection was finally settled, I managed to find a peaceful hour in order to record this.
Je suis loin d'être un spécialiste du Brésil, contrairement à d'autres excellents djs. J'achète des disques brésiliens qui me plaisent & que je trouve intéressants pour mes sets, mais ça reste plutôt anecdotique si tu compares à d'autres styles. Du coup, la sélection du mix est vraiment basée sur des coups de cœur personnels, des trucs que j'affectionne particulièrement tel que « Good Bye » de Gerson King Combo et une ou deux « armes secrètes » obscures. Musicalement c'est plutôt funky. Le mix est enregistré d'une traite, sur une DJR400.
I am really far from being a specialist of Bresil, eventhough other Djs are. I buy Bresilian Records that I like and find interesting to play in my sets, but it remains on the fringe in comparaison to other styles. So every track may represent a crush that I had, or things that I especially like, as Good Bye from Gerson King Combo, and one or two of my « secret weapons ». Musically speaking it'sFunky. The mix is recorded in one breath on DJR400.
Quelle image as-tu du Brésil? Es-tu déjà allé sur place?
What is your mental representation of Bresil ? Have you ever been there ?
Je ne suis encore jamais allé au Brésil, mais je rêve de pouvoir le faire un de ces jours. Du coup, l'image que j'en ai est forcément « fantasmée », au travers de ce que je peux en apercevoir d'ici et de ce que certains potes m'en ont dit… J'espère pouvoir y aller au plus vite pour me faire ma propre idée.
I have never been to Bresil, but I definitly want to go there. So the image that I have of it is necessarily fantasized by what I have seen of it and heard from my friends … I really hope to go there as soon as possible to get my own idea !
Selon toi quel est l'apport de la musique brésilienne au Disco et à ses genres connexes ?
According to you what is the influence of Bresilian music on Disco and every closely related style ?
Je n'étais pas encore né à l'époque donc c'est compliqué comme question. Je ne préfère pas dire de connerie. Parmi les morceaux brésiliens qui ont eu un impact sur le disco et qui ont été joués ou qui ont pu être joués par des djs disco à l'époque il y a probablement Samba Soul – Chove Chuva qui est une reprise de Jorge Ben si je ne me trompe pas. Il y a également ou Toque de Cuica d'Airto Moreira.
I wasn't born at that time so it is complicated to answer your question and I don't want to say any bullshit. Among the bresilian tracks which had an impact on disco and which were played, or might have been played by disco djs at the time, there is probably Samba Soul – « Chove Chuva » which was originally made by Jorge Ben if I am correct. There is also « Toque de Cuica » from Airto Moreira.
Inversement, si tu regardes le Brésil des années 70, tu vois très bien que certains artistes ou groupes ont parfaitement intégré et digéré les influences soul / funk / disco américaines pour en faire un truc unique bien à eux. Ça ne s'est jamais traduit par des tentatives de « copier » le son ricain. La soul, le funk et le disco brésilien contiennent des éléments vraiment distinctifs de la musicalité brésilienne. C'est ce qui me plait le plus dans cette partie de la production musicale brésilienne – au même titre que les trucs disco / funk jamaïcains dont on parlait plus tôt.
And at the opposite, if you look at Bresil in the 70's, you can see that a lot of artists have perfectly understood and digested all these soul, funk or american disco influences producing their own sound.  It is higly personal, they took over it without any copy of the american style. Bresilian soul, funk and disco have dinstinctive elements that really make Bresilian musicality appart. And that's what I like the most in this part of the bresilian music production – as much as jamaican disco or funk stuff, we were talking about before.