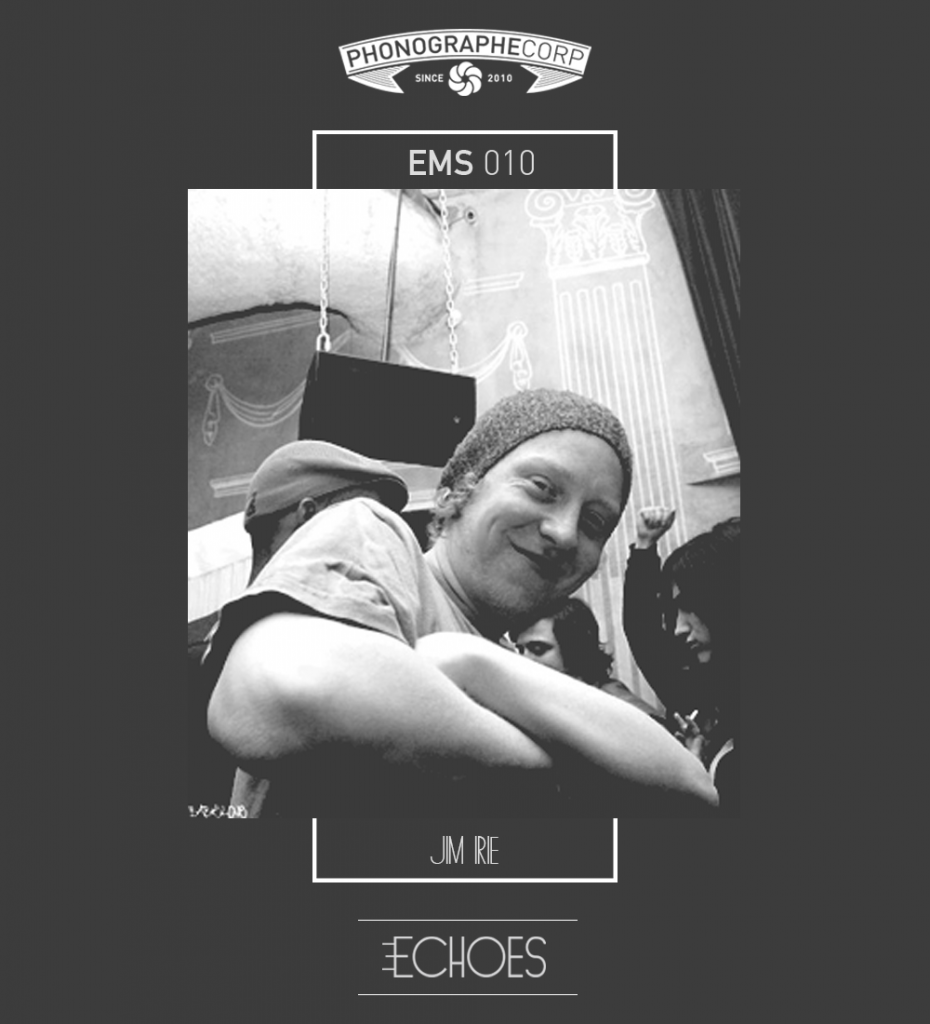 « Je suis un enthousiaste qui aime les gens. C'est cet amour pour les gens que je retrouve dans la musique » – Jim Irie 
« I am an enthusiast who loves people. It is precisely this love for people that I manage to find in music » – Jim Irie
DJ, journaliste et organisateur de soirées, c'est à Jim Irie que sont confiées les platines de ce 10ème Echoes Mix Series. Venant marquer le retour en France du projet, ce digger invétéré vient peindre une passerelle colorée entre le Brésil et notre Hexagone.
DJ, journalist and promoter, Jim Irie will be the one taking the decks of this 10th Echoes Mix Series. Marking the project return to France, this inveterate digger comes to paint a colorful bridge between Brazil and France.
Ayant commencé à écrire sur la jungle dans les années 1990, Jim a depuis toujours été fasciné par tous les genres musicaux. C'est ainsi qu'il débute rapidement son inexorable valse entre la jungle et le jazz et du jazz à la soul pour finalement s'intéresser de plus près à la house. Particulièrement actif au sein de plusieurs collectifs, tels qu'RPM – notamment connu pour avoir organisé les premières soirées Jungle à Paris – ou Jaw Family – qui a convié très tôt des légendes telles que Larry Heard, Sadar Bahaar ou encore Moodymann à jouer dans nos clubs – il s'adonne à la création de ponts musicaux entre les cultures. Débutant sa quête avec la scène londonienne, il poursuit en développant des projets de soirées à Berlin. Plus récemment, Jim s'est allié à Mad Rey (D.Ko Records), venant partager avec lui les platines du Mellotron, à l'occasion de l'émission « Babylone Rockers »  au nom du collectif Red-Lebanese.com, qu'il vient rythmer de la richesse de son impressionnante collection de vinyles. Résident à l'Entrée des Artistes et aux afters Discomatin, l'artiste aux multiples facettes propose de véritables voyages à travers le temps et les frontières à chacun de ses sets.
Having started to write on Jungle music in the early 1990s, Jim has always been fascinated by all musical genres. This is how he quickly beginned his inexorable waltz between Jungle and Jazz and from Jazz to Soul, to finally deepen his interest in house music. Particularly active within several collectives, such as RPM – also known as the first to organize Jungle parties in Paris -, as well as Jaw Family – who, very early, invited legends such as Larry Heard, Sadar Bahaar and Moodymann to play in Parisian clubs – he indulges in the creation of musical bridges between cultures. Debuting his quest with the London scene, he pursues his ambition through the development of various events in Berlin. More recently, he happened to side with Mad Rey (DkO Records), thus sharing Le Mellotron's decks with him, in conjunction with Red-Lebanese.com's "Babylon Rockers" show, which he enriches through his impressive record collection. Resident at L'entrée des Artistes and well-known regular at the Discomatin after parties, this multi-facet artist offers genuine journeys across time and frontiers through each of his sets.
Selon lui, « La musique voyage et fait voyager ». C'est au travers de cette idée qu'il nous propose sa sélection brésilienne. « Ce n'est pas ma spécialité mais, bien que je n'ai pas toujours eu l'opportunité d'embarquer dans un avion, c'est en discutant avec les gens que je voyage », nous confie-t-il. Parmi ces interlocuteurs pourrait notamment être cité Rémy Kolpa Kopoul, journaliste et animateur inébranlable de Radio Nova, aussi réputé comme l'un des plus grands connaisseurs français de musique brésilienne. Entre Boogie brésilien, Samba française et Funk revisité, c'est au patrimoine culturel précieux légué par des légendes telles que Marcos Valle ou Tim Maia, auxquels Jim vient rendre hommage. L'expérience valant souvent plus que des mots, on vous laisse embarquer au sein du cockpit d'un Jim Irie « tout de groove bariolé vêtu ».
According to him, « Music travels, as well as it travels you on a trip ». It is precisely through this idea that he proposes his own Brazilian selection. « It isn't my specialty, but, even though I didn't always get the chance to get on a plane, it is actually through discussing with people that I manage to embark on my own trips », he explains. Amongst his interlocutors could also be cited Rémy Kolpa Kopoul, journalist and unwavering radio host at Radio Nova, also known as one of the greatest French connoisseurs of Brazilian music. Between Brazilian Boogie, French samba and revisited Funk, Jim pays tribute to a precious cultural heritage bequeathed by legends such as Marcos Valle and Tim Maia. The experience often speaking louder than words, we therefore leave you to embark on the cockpit of a bright-colored groovy Jim Irie.