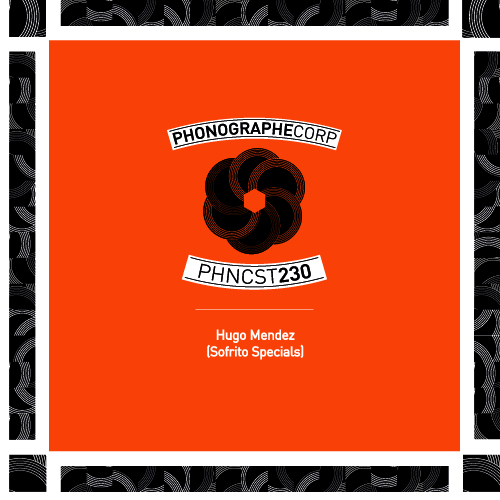 Écouter un set d'Hugo Mendez, c'est toujours être certain de découvrir des sonorités exceptionnelles venant des quatre coins du globe et de toutes les époques, mais c'est également s'assurer de danser. Fondateur du concept Sofrito au côté de son associé Frankie Francis, le projet est avant tout parti d'une série de fête dans l'est londonien durant lesquels ils jouaient leurs dubplates pressées au studio de mastering « The Carvery ». Aujourd'hui le label propose aussi bien de la cumbia, du merengue que du soukous, du boogie et des tracks aux sonorités plus électroniques. Hormis l'identité visuelle unique et festive, le label a la particularité de proposer des morceaux résolument dancefloors. Bien qu'étant souvent des trésors du passé, le catalogue semble toujours dans l'air du temps, et ce aussi bien lors d'une écoute domestique que sur un dancefloor. Nous étions d'ailleurs ravis d'accueillir Hugo Mendez et son label lors de notre dernier évènement pour le Disquaire Day. Concernant le podcast, le résultat est à la hauteur de nos espérances et la sélection extrêmement intéressante. Même si l'automne bat son plein, ce mix de 44 minutes vous donnera peut-être quelques coups de soleil. Bonne écoute !
When listening to a Hugo Mendez's set you could be sure of two things, firstly that you will discover loads of sounds coming from everywhere in the world, secondly that you will dance as hell. As co-founder of Sofrito's concept alongside his partner Frankie Francis, the project took shapes around famous warehouse parties in East London during which ones they were playing dubplates pressed at Frankie's mastering studio, The Carvery. Nowadays the label offers a wide choice of exotic sounds from cumbia to soukous to merengue or more electronic sounds. The strong visual identity of the label goes hand in hand with the dancefloor inclination of it catalogue. Even if the label is releasing hidden gems from the past, it seems that the founders have a certain ability to insert them in our era giving them a second life that takes place in our living rooms and our clubs. This Phonocast goes beyond our expectations and offer a very interesting selection. Even if trees seems to lose all its leaves, this 44-minute  mix may give you several sunburst. Good listening!
Playlist
Tracky, percussive sounds old and new
Tom Mkhiza – Swazi Message
Kenya Safari Band – Tropical Treats Edit
Alma Negra – Untitled (Sofrito)
Julian Babinga – Madinga
les 4 étoiles – Confusion
Roscius – Gouttes (Remix)
Max Ransay – Ti Kanno
Kan'nida – Neg' Là
the Maghreban – Heita!
Basa Basa Experience – Black Light
Minzoto Ya Zaire – Mfuur Ma