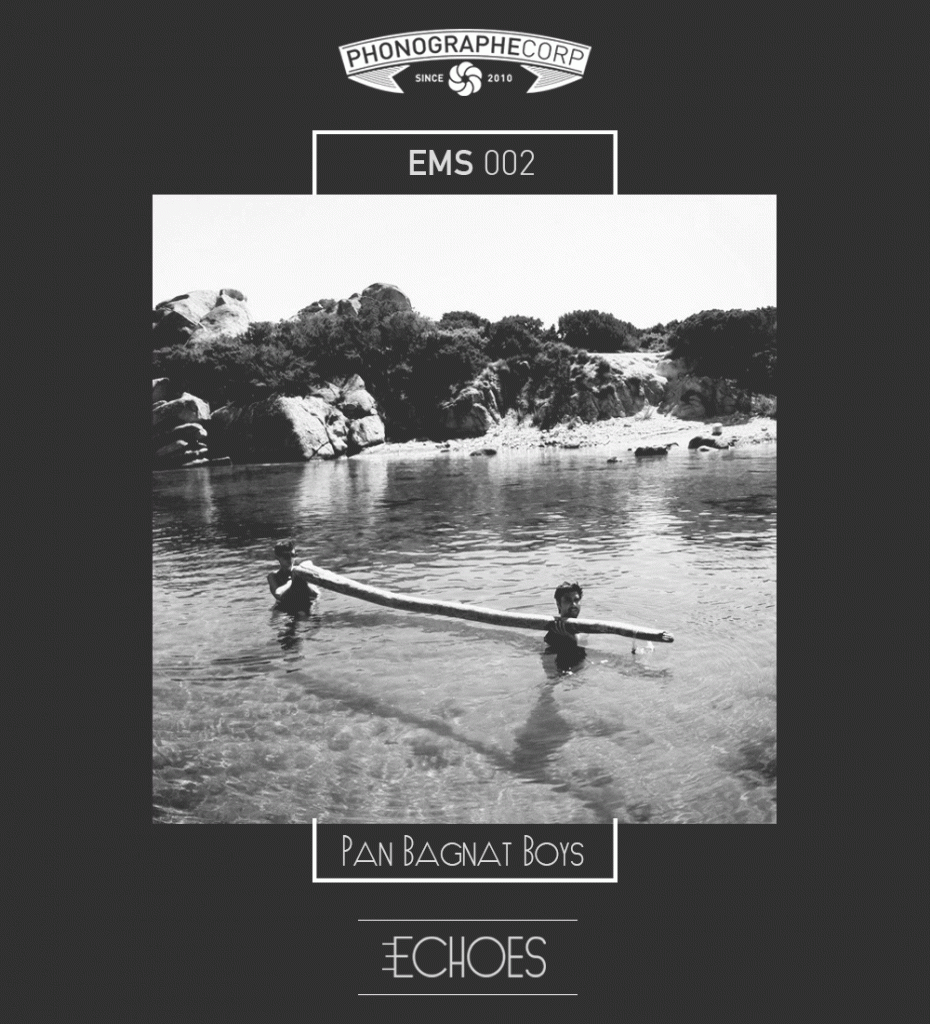 Actifs dans le sud de la France et officiant sous le nom de « Pan Bagnat Boys », les deux niçois, Elliott (ECLT) et Yannick sont, malgré leur jeune âge, tous deux de fins mélomanes. Leur rencontre, bien que naturelle et spontanée, est intéressante vue de l'extérieur. L'un est issu d'une famille de musiciens tandis que le second grandit en contemplant l'oeuvre de son aîné, qui avait pour habitude d'organiser un certain nombre de free parties à leur heure de gloire dans la région PACA. Pour autant, tous deux se sont directement intéressés à la musique dans son ensemble.  Trip hop, Classique, Musique du Monde, Techno … En ce sens la plateforme WeirdBrowser qu'ils ont créé  l'été dans le but de partager et de promouvoir des musiques peu répandues dans le sud-est de leur hexagone natal.La musique brésilienne n'est  que l'une de leurs premières quêtes communes, étudiée intelligemment par le biais d'une mutualisation de leurs compétences. Ainsi, pour ce second Echoes Mix Series, leur tâche consistait à interpréter le sujet musicalement. C'est donc « le départ » qui a été la principale source d'inspiration, agrémentée par un grand nombre de morceaux franco-brésiliens, faisant directement allusion à l'une des thématiques de ECHOES à savoir les jeux de perceptions mutuels France-Brésil. C'est ainsi que Yannick et Elliott s'expriment sur le sujet :
Operating in the South of France and officiating under the name of "Pan Bagnat Boys", Elliott (ECLT) and Yannick are both, in spite of their young age, fine music lovers. Even though spontaneous and natural, their encounter might seem interesting when looked at from the outside. One descends from a family of musicians, whereas the other grew-up watching the work of his elder brother, who used to organize free parties at their finest hour. Even so, both similarly directly got interested in music in its whole. Trip Hop, Classical and World Music, Techno… In this sense, the WeirBrowser platform was created with a purpose of sharing and promoting non-widespread music throughout their native South-East of France. Brazilian Music is none other than one of their first common quests, intelligently studied by means of the mutualisation of their skills. Thus, for this second Echoes Mix Series episode, their task consisted in interpreting the subject in a musical way. They chose "the departure" as their main source of inspiration, enlightened by numerous Fraco-Brazilian tracks, directly referring to one of the subject's theme's, namely the France/Brazil perceptual sets. It is how Yannick and Elliott express themselves on the subject:
Yannick : Ma conception du mix est à l'image de ma vie, une histoire d'émotions. La musique du Brésil est d'une richesse et d'une sincérité infinies. Avec Elliott, on se passionne à découvrir et redécouvrir le genre pour trouver les objets de curiosité qui nous transmettent des larmes de joie et de tristesse.
My conception of mixing reflects my life's: it's a story full of emotions. Brazilian Music is a treasure of an infinite sincerity. Elliott and I are fond of discovering as well as rediscovering this genre, in order to find objects of curiosity that pass on tears both of joy and happiness.
Elliott : C'est vrai que lorsqu'on fait notre sélection on cherche vraiment à être fidèles à cette règl, qui est que le morceau dégage ce « petit truc » qui le rend particulier. Concernant le projet ECHOES et son influence sur le mix, on a trouvé intéressant de mettre des morceaux brésiliens interprétés en français. Par exemple, le morceau « Joanna Francesca » est un classique composé par Chico Buarque et interprété par Jeanne Morceau pour les besoins d'un film – si je ne me trompe pas – tout comme pour le morceau « Zozoï » qui existe aussi bien en portugais qu'en italien et qui est ici chanté par la magnifique France Gall. Au final, c'est ça créer du lien !
It's true that when we make our selection, we try to remain faithful to this rule, which is to make sure the track draws this "little thing" that makes it unique. Regarding ECHOES's influence on this mix, we found interesting to choose Brazilian songs interpreted in French. For instance, the track "Joanna Francesca"- if I'm not mistaken –  is a classic that was composed by Chico Buarque and interpreted by Jeanne Morceau, for the purposes of a movie, as well as "Zozoï" that exists both in Portuguese and in Italian and which is sang by the amazing France Gall. In the end, that's what creating bonding is all about !