If you had to quote three adjectives to describe Armon Bazile aka Aybee, it would be without any doubt, spirituality, reflection, and deepness. The Californian producer from Oakland was in Paris for a Synchrophone Party at Batofar, in late December. Founder of Deepblak and really active producer hidden behind a dozen of alias, he is known for a deep and spatial sound, really atmospheric and soft but with a raw and real work on the texture. We benefited from his stay in Paris to catch him for a little talk.
– Could you introduce yourself?
Hello I am Aybee from Deepblak Recordings, I come from Oakland in California and I'm now living in Berlin.
– You started Deepblak in 2001, were you involved into dance music before?
Well, yes and no, actually before I started a label I worked on a website which was covering nightlife, djs , news, performances and diverse kind of entertainment. I came from this field as web developer, and I left that in order to focus on music as a full time activity in 2000, then I founded Deepblak in 2001.
– What pushed you to climb the gap and go to the other side?
I was doing music, but I did not take it completely seriously. It was something I was doing on the side, but I was making a transition in my life and my friends were giving me a lot of good encouragement. I was changing the direction of my life at that time. I chose to pursue the creative side.
– What was your job at that time?
I was a web developer.
– You spent almost one year totally disconnected thinking about the music you are doing. Why?
I totally unplugged myself; I had no phone for about 6 months. I was basically just living as a monk. I disappeared from a lot of people, and I was just living music 24 hours a day. When I think back to those days I can't really figure out how I survived, and how it happened. I was just making music, dismantling my ego, and learning.
– How do you handle this creative career now?
Now, the dilemma is more about finding the space and time to clear my mind, in order to be able to have a solid internal dialogue. To feel and translate those feelings. For instance now we are doing this interview…we are hanging out. Maybe when I will go back home I will do music related to this time we have spent together. This moment. Life has a way of bleeding into music.  As an artist  it is really important to find the time to live. Then you have something to say. A story to tell.
Aybee – You In Love (Orion 70 Remix)
– You started Deepblak just after two releases?
Actually no, I started Deepblak before my release with Ron (Trent). I met Ron in 2002 and we did not make any release before the year after. Before I was just doing remixes from my own productions and I was giving away this stuff for free on my website. I met Ron that way, through a mutual friend who passed him some of my music.
– But you started your label quickly after your first step into production. Did you think about what you were doing?
Honestly, I did not know what I was doing.  There was nobody to tell me no, I wanted to do this and I did. With the new technology I saw an opportunity to put my music on the web. and to deal directly with people and see where it went from there.  I had no plan; I just followed what was in my heart.
– Are you still alone running the label?
No, now I have a crew of guys like African Sciences and Damon Bell and they share more, and more of the responsibility. Now that I'm living in Berlin they are doing a lot of the label work in Oakland. This is really different than before. It was my vision for the first 7 years, now there are different people bringing different ideas.
– Was it easy to ingrate them in these process?
Yeah, because we all know, and Love each other. We operate on the same vibration. When we are sitting down talking about new releases or whatever we throw it to the group and we move collectively.
– Today, are you still your own A & R or do you share this function with the other people in your crew?
I have the last "say so" but everybody has input.
– Could define the guideline of Deepblak?
Styles always forward, and open with an emphasis on future dancefloor soul. Much of our influence come from the 70's jazz fusion era when a lot of artists left jazz to go to electronics. There was no map, no blueprint, and from that freedom they were able to create some extremely timeless music. We try to approach our art in that same manner. Remaining open. Today we have a lot of technology, and there are a lot of ways to create music, but the predominant rule for us as a label is that there are no rules.
People say "what kind of music do you do?", we do whatever we want to do, sometimes it could be deep house, sometimes it could be techno, ambient, hip hop or cinematic music. It just has to fit emotionally to what we are trying to give artistically.
– Does it explain why you have a lot of aliases?
Exactly, I have stopped doing that. I was trying to explain myself in different avenues, so that's why I choose the other aliases.
– Could you present some of them?
Prof. Delacroix came from a movie I saw in the US. There was a character called Mr. Delacroix and he was in my head when I was working on my track so the name came right after that. There  was Orion 70 with which I did several releases under, those had more of an homage to techno. O1O was more dedicated to Hip Hop. I did Bla Kula, Afrobatik, Rah Jheet, and Lamaj. A good friend of mine told me to stop using all the aliases. At one point some of my friends were buying the music without knowing that it was me behind the records. Which is what i was aiming for, but It all began to become a little schizophrenic.
– On Deepblak Avant-garde seems to be really important. Do you think that this aspect in music is essential for every one?
I think that it is essential for people to do certain things, for some people it's important to fit into certain guidelines, for others it's important to ignore them. That's where I believe we fall in. There is room for every one, in every different sound, but yes we are constantly trying to push the boundaries of our music.
Ron Trent – Manifesto (Aybee's Blak Space Federation Slap) – DEEPBLAK
– Your family was involved in music too?
Yes, my grandfather was involved with Jazz Music. My family is from New Orleans in Louisiana the birthplace of jazz. In this place everybody is more or less involved in music. When he was younger he had some experiences with jazz, and blues, but it was my uncle who seriously got into music. He was running a label in Oakland during the 70's called Armour. He had a cover band called the Variations with a few releases, albums, but no major hits. Being around this as a child later became an inspiration as a decided to pursue myself musically.
– Today you're playing live in Paris, but you're are also a dj, so do you find a balance between these two ways to perform?
Yes. I am really pushing the live thing lately, but I do both.  The cool thing when you're touring live is that you have more creative freedom, and in terms of sounds, you're working with your material. If you're working from a label standpoint, or promoting an album it is a better showcase for what you are doing. In terms of posture, you're in front of a crowd saying " here is our work, here is our project, and this is what we do". When you're Djing you are just playing different types of music and weaving tunes together. Presenting as a live performer is really stimulating as you can utilize far more colours than you could if you were just djing. I love them both, and continue to do both, but right now I'm really into the live aspect.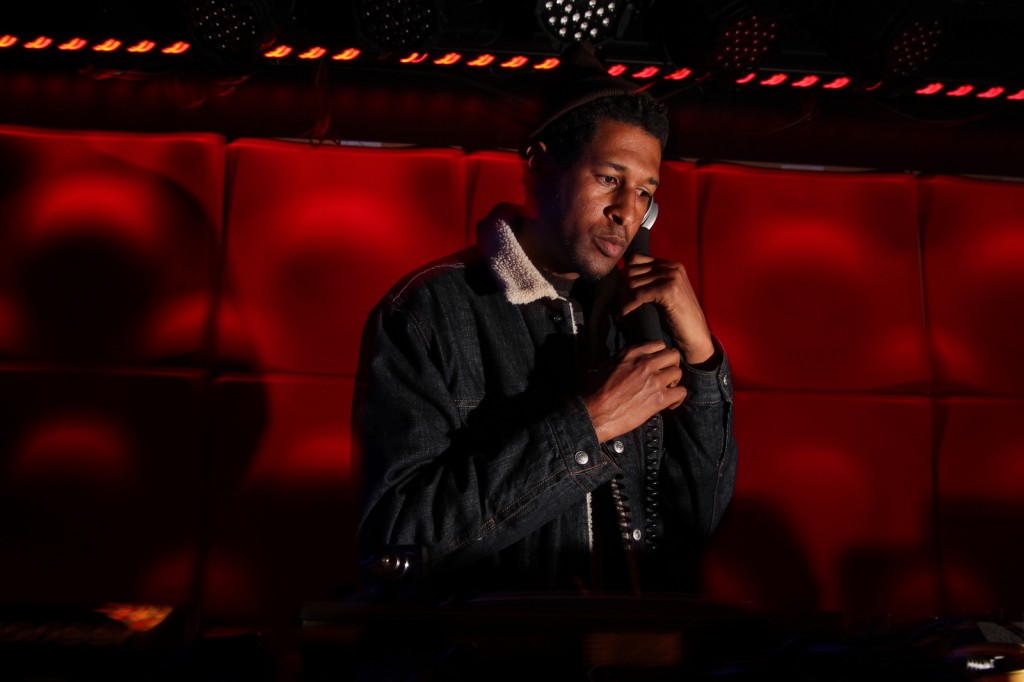 – Tonight did you present your new album?
No, just some pieces, but not the entire album.
– It will be 3 years since your last album, for the first time you waited a long time. How it came more easily ?
I have experienced a lot of things over the last 3 years. I did the East Oakland Space Program album in 2009 then followed that in 2010 with an album « Ancient Tones » with Further Records out of Seattle. It was a limited cassette release. From that cassette we pressed two of the tracks to vinyl. I also did another project with Further called Futurspective using my O1O alias. A lot of things changed in my life also, and I needed some time and some space to release a new album as Aybee. You have different things in your life that make you put things off.
Recently I was talking with Levon Vincent, and he was telling me, that he would like to work on an album, but he had to find that space to build something coherent with a narrative. That is a very important point when it comes to creating an album. You might work on some tracks, then 2 or 3 months later you find you are somewhere else mentally, so you have to create a project that you are able to sit and listen to from the beginning to the end. During these last few years I tried to find that time to say what I had to say.
– Could you tell us more about Worlds ?
The East Oakland Space Program album was based on the vision of somebody looking out into space, into the deep. Worlds is the actuality of touching down in a new world. Sonically that is how I approached it, "What would it sound like to Land? » That's how I tried to create the soundscape.
– We could interprete in a other way as a listener, the first title is evocating an escape and the other one is based in the present.
Exactly it works that way also.
– Could you tell us more about your project Black punk sound system with Ron Trent?
We started it few years ago, we recorded a bunch of stuff, Ron and I are really keen on music history we talk a lot about music History. We really admire the early seventies jazz funk era, but also the late 70's and the punk influence in Hip Hop. In that era you had a lot of different people hanging around, and sharing ideas. Under inspiration from music of that era, we started this side project under the name Black Punk Soundsystem (BPS). We have a lot of music completed. We are questioning were it will be released, on Ron's label or mine, but it will definitely be out in 2013.
– Now you're living in Berlin do you think it will impact your perception of music?
Everything has impact on perception, new environment, new air, new water, new conversation, and new rhythm. As an artist you take all that in, and you do with it as you will. I'm always looking for new horizons. We'll see what this latest one has is in store.
– If you had a last word to close this interview, what would it be?
Love.
Thanks for Aybee and all the Synchrophone Crew  for their times and their kindness!
Interview realized by @sousouphono