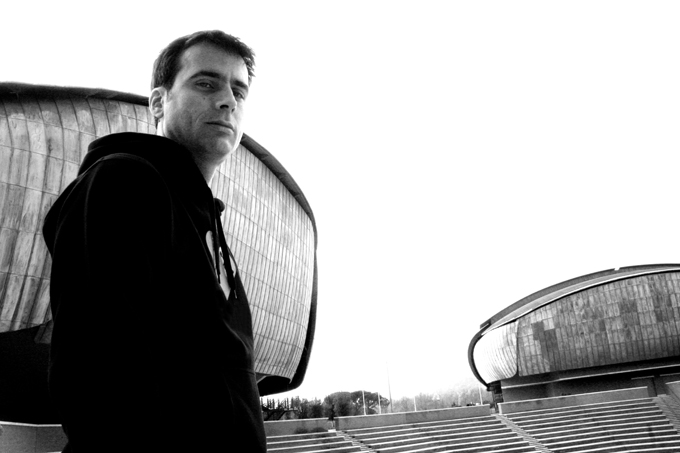 When you attend at the starting of the story, it is always grateful to play one part of it, as little part as it could be. Dino Sabatini belongs to a generation of producers active since the early 00's but which was properly revealed around 2010 under the impulsion of a label, Prologue. Back in the days, all those artists were linked through one Roman imprint, Elettronica Romana. Amongst them, we could quote haphazardly Brando Lupi, Donato Dozzy or Giorgio Gigli. Dino Sabatini is now doing the shuttle between Rome and Berlin for several years. Since 2011, he manages his own label Outis, which the story starts from the Ulysse's Odyssée. His singular musical background and his vision of music caught our interest. We had the luck to ask him some questions about it and his multiple projects.
– Hello Mr Sabatini, could you present yourself?
Hello, I am Dino Sabatini I come from Rome in Italy. I produce music and dj.
– Did you discover techno music in Roma?
Yes, in Roma. I was young around 19. I discovered this music by the rave parties in Rome. Then I started to follow a certain kind of techno but to be honest at the beginning I was not at all in techno music. Initially, this music was not on the first ground. I was in more drum n bass then techno became more musical, so it caught my interest, I thought it would be nice to do some techno and now I am 45 years old and here we are.
It's strange to explain this for me because it's a long journey. First I came to this music through the djing. I got my first trial to be in a studio because I was a guitarist. I fall in love with my first machine it was an S1000 sampler, the first Akai I saw in my life. At that time, computer was not that developed. You could just play with midi. The first professional software I used was Cubeat (Cubase) also ran only Midi, I remember almost 24 floppy disks for the program setup.
Before you would be just able to play in midi and now you can also play with a lot of different sound sources. In the beginning, it was very hard to make quality techno music without a good studio. The best thing was to take samples from other vinyls and maybe arrange on top of them something with the sampler you could just play with some vinyls and not take some part from some vinyls. I remember the first guys in Rome who started to make some quality techno records Lory D  and also « Leo Anibaldi, » who told me at that time, for the production in addition to the usual sampler they were taking some vinyls and doing a puzzle of parts.
After the first synthesizer and the sampler, computers started to be a machine that everybody could handle. Then production there reached another level. So the first productions in Techno music in Italy by my personal point of view were not that good.
I did not like techno music instantly, first because it sounded boring, easy and linear to me. After the technologic revolutions that happened, it took a totally different dimension. You could precisely develop a concept with total freedom but first I did not have the right tools, so it was not my main focus.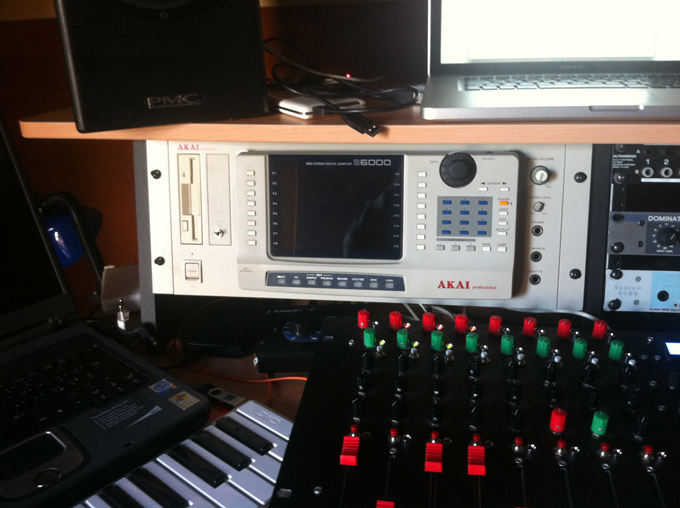 – Is it the absence of limits that appeal you now in production?
Now you can also create your own instrument so with this Opensource era there are no limits. It's a totally different environment. Of course, I need some. Every day, I have to think how to do something new, it's important, so I'm doing some experiments, I did my handmade controller with a Midibox system, and I'm also doing  some analog synths, Filters & Sequencers which I use a lot with my old stuff. I still have an Akai S6000 sampler some old synthesizer which now I use in a digital chain as I programmed several sequencers and effects with MaxforLive and in this way also my old machines become very useful, but every day you have to think different to change this kind of music. After one year, I think that any concept could sound boring, is it not the case for everybody? Sometimes it is very easy to forget a track after three months, the lifespan of music especially for djing changed.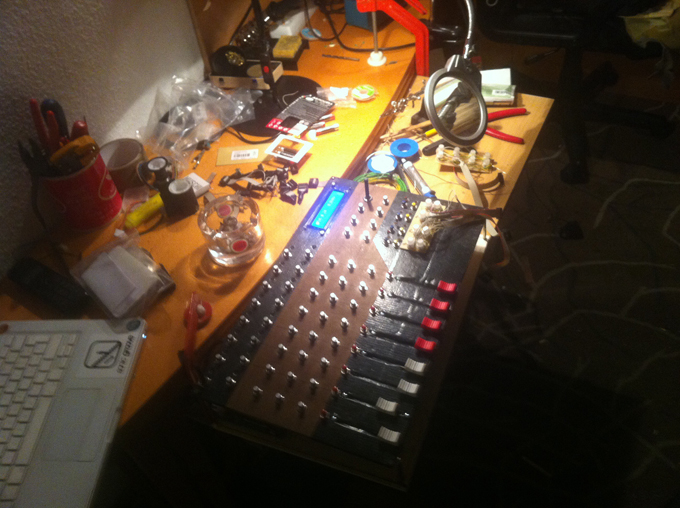 – True, but when you are creating, are you doing this for you or are you ruled by other reasons?
In the beginning, obviously I create for personal reasons. It's a way to express feelings, to a certain extent, it is cathartic. Music is a strange concept, because  I could not decide the purpose of the music I do. It's too versatile; it depends on a lot of variables, my feelings my environment…
– You started to produce with Gianluca Meloni as Modern Heads. Before you were a guitarist in a band. How did you switch from a band to a duo?
I switched because I had many occasions to be in the studio. In the studio, there was a lot of machines with which you could fall in love. In my brain, it was a strange feeling: « what's this fucking device. » I realized that with these machines you could create whatever you want, it was the key of freedom. You did not need a band, just your ideas.
In a band, you need a link between the artists. You need a bassist; you need a drummer; it was such a problem. I don't like singers very much. As a former guitarist, I remember so many times where  I had problems with singers. Then I realized that you could do everything by yourself with a sampler and small multi-tracks mixer. It was a big revolution for me. It was the cheapest setup you could afford at that time, but it was a starting point.
– Why you decided to keep working somebody instead of working alone?
Our meeting was in a studio in Rome. Gianluca had so many synthesizers. It was the first time of my life that I saw somebody in love like this with his machines. I started to play with him, and we made some tracks. I never met in my life somebody like Gianluca. He was 12 when he got his first Korg MS10.
This meeting was like a bomb in my life it was the perfect match. We started to do some production and different projects. The first one was a mixture between Jazz and electronic music. We did big Jazz Festivals together a famous Jazzist ( Antonello Salis). Then we decided to follow another kind of way. We did some tracks, I made a cd, and I brought it to the Record store in Roma called « Remix » and here I met for the first time Sandro Maria Nasonte e Alessio Armeni (Freddy K) the owners of Elettronica Romana. They were like godfathers of this crew of artists; they put everybody in contact and gathered all of us. The first Modern Heads productions on Elettronica Romana were from Pathology E.P. It was also the first collaborations with Donato Dozzy with which we have done one of two tracks and with whom we got to know each….. even though the track has been then named incorrectly as (Dozzy Version)
We also had a studio in the vinyl shop. Gianluca and I were technical engineers for the Elettronica Romana Studio. We were doing mastering and mixes for artists. Everything was going well. Only one year after the creation of the imprint, there was already a big interest around the structure. Our Modern Heads duo had another project with Dozzy Records. We did our first gigs at Panorama Bar. It brings us years ago…

Suddenly there was this huge crisis in vinyl distribution. Lot of structures went to bankruptcy, the vinyl industry collapsed. It had to start again from the beginning. Almost all the labels shut down.
Two years after, I had my first chance with Prologue, I did my first Solo Ep there. I did some tracks that I put on Myspace and Prologue contacted me. Modern Heads also did some release at the early days of Lucy's structure Stroboscopic Artefact.
Consequently to my move to Berlin, it was not easy for Gianluca and me to play together. In Italy, reality was hard; it was not easy to survive.  Gianluca became father, and he had a proper job. I was thousand's miles away and I did many tracks by myself. It was the moment I decided to focus on my personal project.
After my second Ep on Prologue, that I've done with Donato Dozzy in 2010, I decided to start my own label Outis. It was as a private joke with myself: « I'm going to do my own tracks and release it on my own label. I want to try. » I did just 300 copies. It was very nice because in one week everything was sold out. In the same time, I talked with Prologue about my decision to be more autonomous and to produce tracks on my own imprint but that I wanted to share with them one album, Shaman's Paths.
Now, I am working for myself and on some other projects with Gianluca again. Few years ago, we did two tracks that I love, a lot, and I want to release those tracks. On this release, it would also be  an invitation for other Italian artists as Brando Lupi, Giorgi Gigli, Donato Dozzy and everybody to remix those tracks. It would be an opportunity to gather once again the other artists from the good old days from Electronica Romana.
– You quoted Lory D that was a big reference for you and other Italian producers.
Yes, but not that much because there were too much different periods in the development of this music in Rome. Lory is one of the craziest artists worldwide in terms of techno. Some tracks he did a long time ago went hand in hands with another style of parties. It is related to my first party memories. I have a lot of fun remembering it, but it is also very personal.
About music, he did one of my favourite at the end of 90's. The release was on Sound Never Seen. As a dj, he was one of the most awesome scratchers then with techno he was using some machines it was more like a concert. It was one of the precursors of and obviously the first name which come to my mind when I think about the story of Techno in Italy.
– Prologue already gathered a big part of Electronica Romana, did it not?
Tom (Bonaty), Prologue's founder liked a lot the label. He helped to develop this style. For us, Prologue was a second house but I still have a lot of ideas to share with my friends. So I would be happy to be all together again.
– Your story is closely linked to this group of artists. Even if each of you have a singular path, in the end, you are still together. Is it important for you this community notion?
It's primordial to have a certain group of people working together in the same direction. Everybody is more powerful by sharing his ideas with each other and by speaking about his way to feel the music. It is a mutual and virtuous upgrade.  Music is the way you have to follow. If you like a certain kind of music, you will always find people to work with and eager to make progress this style of music.
Why did you choose such a symbolic name for your own label? Outis comes from the Greek Oytis, which means « Nobody » that was the name of Ulysse when he was amongst the Cyclopes.
I am a lover of the Odysée of Ulysse. Nobody is his name during the adventure with the Cyclops. This book is a tale with a lot of dramaturgy inside. I don't think my music is a very happy music. I think in the way it's written I try to recreate a feeling linked to this dramaturgy. Now, I am not so dark anymore; I opened myself to other kind of sound with some new elements. Outis was a perfect name for my label because it matched to my idea to create a link between the story and the artists and to play inside the tale.
– Yes but why choose a name, which means faceless when a label nowadays is a signature and etiquette.  How do you handle this paradox?
I link to be direct with people and not to go around to explain. For instance, The collaboration with Donato Dozzy happened when came back in Roma. We decided in five minutes to make a track, it was the result of a meeting after long time without seeing each other. I try to create a story with my label; I don't know if I make it good or if I will achieve it, but to me, it's a lot of fun. I try to create a story for any collaboration. I hope people could follow me. It's not much about to be faceless, but more focused on a narrative process in order to create a story with elements constituting a whole.
– How this last collaboration with Edit Select happened?
I met him for the first time in a restaurant in Berlin for one hour because after he was playing in Berghain. I met him a second time in Paris it was the same night we met. From there, we decided to work together. We first started to produce a track for his album. He loved a sequencer with some bells with which I can create very hypnotic but nevertheless still harmonic. He asked me to use it for some parts of his album, and I was sincerely happy to help him. It was the starting point. Then we shared some tracks for our labels. Now we are fully collaborating, I am doing some tracks for him, and we are also working together on other tracks for Moto Guzzi, which is, label based in Switzerland.
I felt good with him and usually when I feel good with people I like to play with them. I think it's human. With this starting postulate, it's also easy to understand what they expect about a track. Another aspect of the collaboration is that personally we met only one year ago but I already knew him through his productions. He told me the same. It's a strange connection; you can't put words on this. Music is another language.
– Now what are the things in the pipelines?
Probably it will be this Modern Heads release with some remixes. It's just an idea to gather my friends around a project and of course I thinking about Elettronica Romana's friends. It would be two vinyls. Then a release from Claudio PRC & Ness  with a remix from Nuel (Aguaplano), who is coming back as a Dj and as a producer and I'm very happy about this.
– Are you frequently doing the shuttle between Rome and Berlin?  
I am always jumping to one city to the other. I am working on it; it is a bit stressful sometimes. Now, I have two studios, one in Berlin and one in Rome, my organization is way easier like this. I would like to collaborate with a lot of people, but I have a kind of feeling with most of my Italian's colleagues especially the Roma crew that I can't find this easily with other people and I am also eager to put forward some of my friends.
– All the guys you're speaking about in this interview are in the game for a long time now. Who are the young guns?
For all the people quoted in our conversation, Elettronica Romana represents a big part of our life, but with the time I discovered that it was just a little event in the huge diversity of the development of techno. Only a few amount people know this story however many people are playing this style of techno today.It seems new for a lot of people but for us it is not new at all. It is a big satisfaction to see this.  Nowadays I would say that Claudio PRC is a great new artist. He is from the new generation; he is also a big fan of Elettronica Romana.