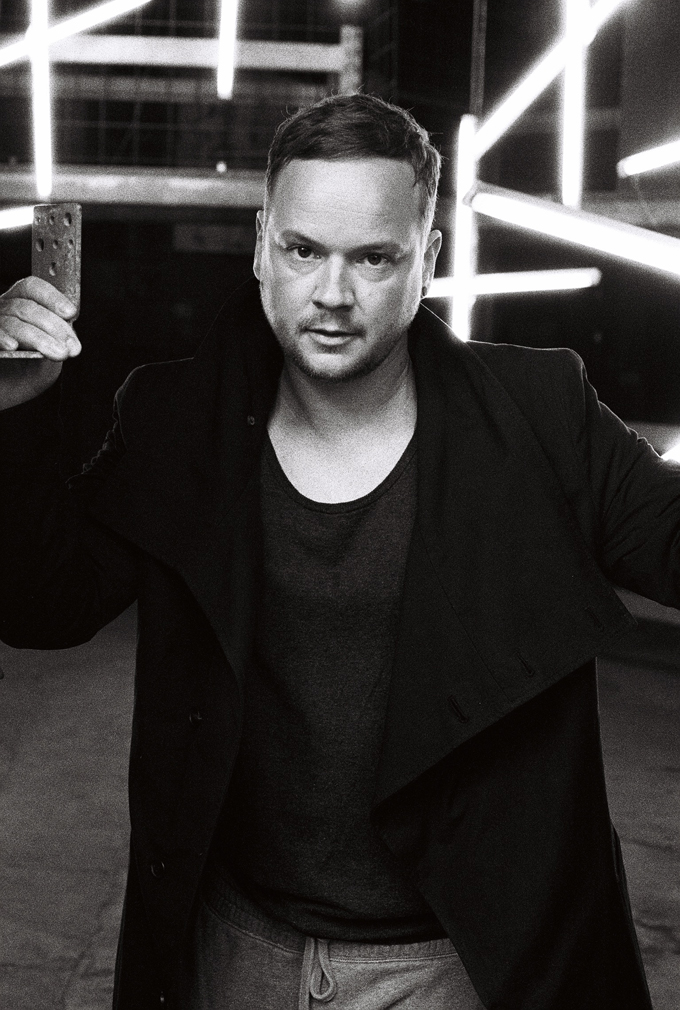 It's hard to be part of an entity which set standards in a whole an industry and to avoid an etiquette. There is nothing bad in being a Berghain resident this position on a résumé is more considered as a honorific title. The interesting fact with the development of the Berlin-based club is that he is closely related to the development of its residents careers. However, these causal and  mutual links of his make the hotchpotchs  and the approximative summaries easier.Each resident is singular and Marcel Fengler does not infringe this statement. Most of the time famous for rubbing the crowd in the right way, nevertheless, he has many different sides that lot of people ignore. Initially coming from Fürstenwalde as other famous artists from the German techno scene as Marcel Dettmann or Answer Code Request, the artist built a strong Dj reputation during the last ten years. Since 2011, Mr Fengler brilliantly diversified his activities by managing his own label IMF and involving himself in project as Masse going further than a classic club approach. As he is one of the headliner of the Weather Festival we thought it was relevant to talk with him to know more about the multiple Marcels . 

– Hello Mr Fengler, could you introduce yourself?
Hello, my name is Marcel Fengler, I am a resident at Berghain, a famous club in Berlin. It's existed since December 2004, and will be celebrating its 10th anniversary this year. I played my first gig there in January 2005 and have been playing there on a monthly basis since. It has played a huge role in my life and in shaping my career – most of of what I am today is based on that experience. I'm grateful for having had this opportunity to shape my own profile, contributing to Berghain as a whole and being part of such a great team.That being said, I did eventually realise I wanted to be able to identify myself with more than just the "Berghain DJ" image and build an outlet for my own vision and ideas. Out of that I launched my own label IMF (Index Marcel Fengler) in 2011. Finally, working on Berghain's « Masse » Ballet project allowed me to work outside of the confines of the typical DJ cosmos.
– Is it really hard today for the residents to have their name always coming hand in hand with the club? I read a lot of things about the "Berghain sound" but there is not only one Berghain sound. In two or three days of party there is not only one sound if it was the case it would be really boring.
When you are playing in clubs all around the globe the people are always screaming for Berghain music but what they mean in the end is this kind of stripped down industrial banging sound which is just one part of what you can experience on a typical club weekend at Berghain. This particular sound does play a large role for Berghain, however you can't reduce the "Berghain sound" to just that, either – many other genres and influences shape Berghain as a whole.
– In lot of articles you are renowned as one of the hardest techno dj in the Berghain, but there is lot of funky and groovy thing in your music in comparison to some other residents.
I agree – I guess it's since I used to play a lot of hip-hop and so on back in the 90s, a part of that still shines through. On top of that I'm not a big fan of rehashing what everyone else is doing so  I make a point of finding my own way and delivering something that reflects my own ideas and perceptions of music. In that context, it's not about just doing hard or banging music all the time. When producing for the dancefloor I'm always searching for the right groove for a track, which, more often than not, I find in very funky patterns. You can already hear this on my early Ostgut releases or also my production on Mote-Evolver. The « punch » comes from the groove, as a result it's about punch for the sake of punch.
– When you made Fokus it was a bit the album that nobody was expecting from you. In which Circumstances did you produce this album?
An album is always a very personal way of expressing yourself. It does not mean that you have to produce diverse things, or that you have to be diverse. To me, the art of doing an album lies in having a sort of thread spanning through the tracks and lending coherence to the whole thing while also introducing people to new techniques or sounds, a kind of new parameter or a new aspect of your work. I didn't want to do something what people were expecting from me. I took the album as an opportunity to show off my creativity and the whole of my musical identity at once. I was trying to reveal it – my musical experiences and influences from the past and to wrap it in something new and unexpected. I mean, I am pretty sure I've disappointed people who were expecting an album of hard and banging techno but I don't really think that's what an album should be about. Most of the music for the album I ended up producing while on holiday in Thailand. Sometimes I was even producing right on the beach. It was very inspiring. It was also the first time I produced something without any contact to anybody else over the course of the process as I wanted to have the project be purely personal and not guided by outside influences or critique. I didn't show it to anybody until after the mastering was finished.
– From your first Ep in 2008 to know how do you think your skills in production have evolved?
This is a tough one to answer briefly, I guess you're always developing. When I first started out, I was focusing mainly on producing club music, which is only and simply arranged for the floor. The more I got into it the more I started needing more than just a simple structure. I had to surprise myself, to try new things without loosing my roots. By playing everywhere, you end up meeting a lot of people, including 90's legends like Luke Slater who's a bit of a personal hero to me. I mean, you start playing with them and it's super catchy and you get really inspired. For me the ballet project I did with Efdemin was really important. This project was also the first time I was working with somebody else and it was refreshing and incredibly inspiring. It had an effect on my album; it has an impact on my strategy with IMF. It's been really cool to progress like this. So this development comes from a lot of things – the meetings, the gigs, the music in general.
– If we look back to when you were younger in Furstenwalde, you were dropping  parties with Marcel Dettmann and Norman Nodge. It was already a kind of collaboration. You're sharing a studio with other producers. Now you're also giving a house in a certain way to other producers with IMF. How the notion of community and exchange are important for you?
Basically it was always a part in my life. When I was starting to go to clubs in the beginning of the 90's we were just a few guys in Fürstenwalde – maybe 10 or 15 friends – bound together by this impact of the changing music culture in Berlin. The exchange and to talk about music was more or less the state of mind, which connected us in order to experience something new. This period of time was exciting to every one of us and something we never got in touch  with before. I had a similar experience with Berghain. Before I played there my first time I had a talk there about my personal musical identity or matching inspirations. So communicating is of course simply the best way to find out accordance's. And that's for sure quite important before you make decisions. That's also the tenor of my label work on IMF. I don't want to have something on the label which is like: "provide tracks please" – and that´s it. The personal touch here is much more important for me. So I want to bring a bunch of guys together which are speaking the same language in music and are up for spreading this to the world. This is much more than to deal just the music – it also deals with personal relations.
– You worked Vril, Thomas Hessler and Echoplex. Vril already released some stuff especially for your compilation on Ostgut. What are the criteria for you to invite those artists on your label?
In the end, I definitely want to make sure that every act on the label is going to be represented in the right way. I don't want to have somebody who is duplicating the things of somebody else. Each of the artists is able to represent a unique style and occupy a specific place. And for sure the music should match to the musical idea of IMF which is more soulful but without being cheesy. So I keep the focus quite open but also take care the music also shows emotion. As long as there is music I like it's cool but I´m more keen on doing a double check in terms of quality and slow down the output. I think it's better to grow slowly but surely. I am a big fan of Peter (Echoplex) since the 90's when he was producing amazing things on Synewave for example. Last year I invited him to my release party at Berghain and have him a Fokus CD after his soundcheck. Back in his hotel he created a kind of tribute remix of 2 two album tracks and his drum machines just to say « thank you for your invitation ». This track was amazing and I love to play it at gigs. After this we got in touch constantly and got to know each other a little bit more. In the end we also spoke about productions on IMF. Vril I had in mind a lot after he made his track for my Berghain mix . And Thomas is a very talented guy here from Berlin. I'm really happy about what we have today on IMF. Looks like we will have a good year as the release plan is more or less settled for this year.
– How many people are working on the label?
Most of the label work I do by myself as I like to keep things in my own hands as much as possible. After I decided to open the label also for other artists I also made a decision to complete the team a bit. So I´m working together with a friend on graphic design issues and somebody else is helping with promotion management of IMF. But I think it was necessary in order to satisfy everybody of the whole team. I mean, it´s still a lot of work and the time management a bit tight but it's also a lot of fun.
– Now that you also have your own imprint, you can also choose what you want to release on your structure and what do you want to release on Ostgut. Was it a way to emancipate you? You did one Ep on Mote Evolver, but almost all your discography is on Ostgut. It's really important to belong to something and to be attached to a context, a history and locations. It's also good to have your own private garden.
For sure. This is one of the reasons for IMF's existence in the first place. It was also to avoid the feeling of just doing music, going to the studio, and then everything stops. I wanted also to be involved in creating the artwork and to do everything on my own to find out how it works and what goes into it – simply to get a feeling for it. You learn about a lot of things in the process, the distribution, how the market is structured, sales and so on. It's a different beast than just doing music. It's definitely great having a platform to just be able to release tracks on if and it made me really happy having all this exchange, which ultimately made me decide not to use IMF only as a platform for myself. I think a lot of people start off like that, thinking "I'm just doing an imprint for my own stuff" and then a few releases later they change their mind.
– It's pretty comfortable situation to release on Ostgut so what was the click to start IMF?
When you're trying out a lot of different things, you come to the point where you try to lean in a specific direction. By releasing more and more groovy stuff, I just wanted to provide specific things on Ostgut Ton. So I thought, why to not represent my more raw side on a different imprint. I never considered going to another label for it. Starting my own label seemed like the only logical solution.
– How did you came to work with Efdemin?
Initially, Philipp and somebody else were supposed to produce together for the ballet but it somehow ended up not working out, Efdemin ended up asking to work with me for the project instead. The guys from Ostgut were happy with the suggestion and approached me about it – I saw this as a great honor and happily obliged. The other guys had already started a couple of months ahead of us, so when I got on board I was immediately wowed by the project – when I was introduced to the conditions and the concept I was very happy to be able to be a part o fit.
I had no clue how working with Phillip (Sollmann, aka Efdemin) would work out. We had played together twice before, and we'd had some fun nights chatting before but that doesn't prepare you for producing music together. So this team work with Efdemin changed also my attitude and personal setup to IMF according to work together with other artist on my label too. This ballet project was really a big challenge for me and I ended up learning a lot from it. For instance, we had to work with a choreographer who would explain to us which direction the piece should be heading and which mood you have to translate with your music – for somebody else to dance to that you've never met before. It was kind of weird but in the end it was a brilliant experience.
– How was it to let somebody enter in your intimacy?
You open your mind, you adapt your workflow. I never did that before. Maybe with Marcel (Dettmann) when we were first messing around with producing music, many years ago. It was a starting point before to get into this process. That was the only time and it had nothing to do with serious club production or ballet music.
– The next release is going to be in few days.
Everything is arranged for IMF003 by Thomas Hessler. We are in the last stages of preparing it. I am very happy to have him on board and I am pretty sure the EP will work properly on the dancefloor.
– Who's next after the release?
In October we are going to have our first label night at Berghain so we'll go most of the Sunday. I'll release a split Ep in September with tracks from all of us. I have to decide if I want to release something between mid-June and August because of the new "summer rules". The there will be a relaese also by Vril and I am pretty sure that there will be another Echoplex and another production by myself. Things progress step by step.
– Do you think you would have started before if you knew what this job is about earlier?
Probably yes, between my first release on my imprint and the second one there was 2.5 years. I am not a really big fan of just putting out stuff to increase up the catalog number. There was not that much stuff that I was really happy with at that time and I had lot of things happening in my life. I got married, I had the ballet, I had my album. I probably would have changed the strategy of the label earlier if I had thought to open it up to others before.
– What is your main challenge now?
When you switch something you were doing for yourself to something where you are representing somebody else, then you are suddenly responsible for a lot of things. You're trying the best to represent those people properly. Doing the press work, the promo thing. I would not do it for my own music but for others it's different. I just want to do things in a way where everybody is happy with. Of course, doing all this when you're touring every weekend it's a bit tricky. That being said, every time you get positive feedback is great and makes it all worth it.
A Motto to finish the interview?
It´s all about fun and passion!
Thanks to Dean and Marcel for the time!