For those who were nurtured by Chicago house , everybody will agree that  Dance Mania's contribution can't be ignored. In this legendary imprint the newbee would directly quote guys like Funk, Dj Deeon, Dj Milton, but the insiders would definetely quote Victor Romeo. With the magic of new social network you could make amazing meetings. This last sentence could be pronounced by many perverts but in our case it was on a friend's profile that we discovered that Victor Romeo was still in the business.
To present this artist shortly, Victor is one of the key figure of Dance Mania if we look at his numerous aliases, each one is associated to the must-have to of Ray Barney's imprint. Obviously, Chicago is not really the nearest destination for near and the gap between what is happening there and here in Europe is huge. Nowadays, this delay is reducing more and more, all the new wave of  Chicago artist is overwhelming european dancefloors bringing a wind of fresh air, and the old ones are still dynamic and full of project. Lately,Parris Mitchell had realised stuff on Wicked Bass and Deep Moves and he is now back on the house scene. We jumped on the opportunity to find him on the web in order to ask him a bunch of questions about his work and his vision of Chicago!
Parris Mitchell – All Night Long
Hello Victor, could you present yourself?
Yes, my name is Victor Parris Mitchell; I've been recording professionally since I was 16 years old with a group I was a member of called Generation. We recorded a Disco 45 record called "Time Square", with a ballad on the B-side titled "Hide-A-Way. After which I recorded numerous demos, which were R&B. Then 7 years later I started recording House records under the Alias of Victor Romeo with Dance Mania Records.
From which part of Chicago are you coming? What is his particularity in comparison to the other (also musically speaking)?
I was raised on the south side of Chicago. I grew up in a neighbourhood called Beverly, then moved to one of the roughest neighbourhoods' in the city called Englewood. You can read about it in any paper. Statistically speaking, it has the highest crime rate in the country. More people are killed in Englewood than any other place. It is also where Jennifer Hudson, Derrick Rose, and a host of other very successful entertainers and celebrities are from. I think for some unknown reason, certain deprived communities make you work hard. When I was a kid, and moved to Beverly, it seems as though every household had a child that was playing an instrument. I remember snooping through the basement window watching one of my oldest brothers friends  playing Hall & Oates "Sara Smile". I had not actually heard the record on the radio yet, and they sang and played so well, that when I finally heard the record on the radio, I was convinced that it was my neighbours who made that record! Needless to say, that I was totally influenced after that, and bugged my parents for an instrument, until my Mom, bought me a toy guitar. That didn't cut it, so I bugged my Dad for a real one. He then informed me that I had to take music lessons. I studied music theory for a while, learning to read and write music fluently.  I'm not sure if there is any real musical difference between the different areas of the city. I do know that in the 80's, all my friends went to the Music Box, Warehouse, and all of those joints.
How did you get into Ghetto House? Were you involved in music before?
Yes, I was very involved. I recorded under numerous Alias names with Dance Mania. I was already a musician long before I recorded a House record, more Disco and R&B music though. Well, the Ghetto House term was a creation of Ray Barney of Barneys Records, and the Label Dance Mania. It didn't exist before then, the terminology that is. One day I was working at Barneys records as the retail manager of the shop, and Ray was headed to his office upstairs, then turned back around, and said, "hey man, let's do some Ghetto style House"
My first thought of the word "Ghetto" was deprivation, meaning something is missing. So, I thought raw, stripped down, and not needing any elaborate expensive studio technology to produce. After really giving it some thought, I figured that maybe Ray Barney was getting a bit tired of paying expensive studio cost. As a matter of fact, I only recorded two records in a real professional multi track studio, under the name Parris Mitchell. That was the Xplicit Lyric EP, and The Parris Mitchell Project; those were recorded on 2" tape. Everything else was done straight to DAT. All of the other records were recorded on 2" master tape though, I mean like the Victor Romeo records and stuff.
Dakota Horvath – A Castle In The Sky
Could you present us your different aliases? How do you make the difference with all your projects?
I recorded under numerous Alias names like Parris Mitchell, The Track Stars, Victor Romeo, Rhythm ll Rhythm, Dance Kings, JC & The Party Boy, Victor Mitchell with my former Artist Diva "Get Up, on Express Records, and "Sexy Dancer". I also did dozens of remixes like Janet Jackson "You Want This" (Disco Theory remix) that went gold, Whitney Houston, and others during the interim of Parris Mitchell and me using the name Victor Romeo. I was also a member of a group called Love Tribe in which we won an ACSAP Rhythm & Soul Award for a track called "Stand Up".  The difference between Victor Romeo and Parris Mitchell is that Victor Romeo is more of musical House style, and Parris Mitchell is Ghetto House. It made sense to have them separate because people, who may have embraced the more musical style I did under the name Victor Romeo, probably would not have accepted the drastic difference.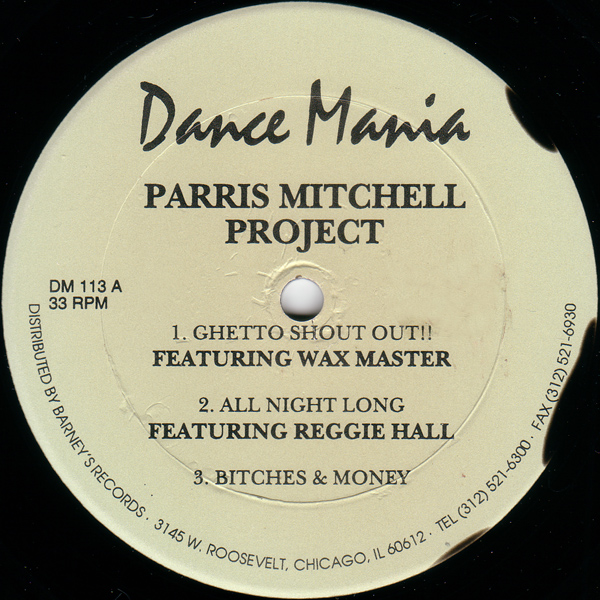 How did you get in connexion with Dance Mania? Today is there a family spirit between the members of the label? Are the members  still involved in music?
I met Ray Barney in the spring of 1987. Vince Lawrence introduced me to him.  Vince invited me to a listening party that he was having in a studio called Chicago Trax Recording Studio, (not to be confused with Trax Records). I was recording a bunch of R&B tracks at the time. Then I ran out of funds, and the owner of Chicago Trax gave me special time to finish my project. I decided to make a House record instead of continuing with my R&B project. So, another person I met was Dane Roewade-Stewart. Dane and I laid the tracks for a song titled "You Can't Fight My Love". We took it to the record label Trax Records, who said for us to finish it up, and he'll pay us. Once we finished, he didn't want to do the original verbal deal we stated, and I was left with a finished record, and no funds to release it myself or label So, Vince took me to Ray, and the rest is history as they say. I am still in contact with Waxmaster. But, I haven't heard much from anyone else. But, I didn't really know a lot of the other guys on Dance Mania, during the 90's anyway. I knew and worked with Waxmaster, Gerald, and DJ Funk. Those were the crew I knew from Dance Mania during the 90's. I knew everybody from the first generation though. Which would be the 80's, when I started making records.
There were other big labels with Dance Mania in Chicago like TRAX, Cajual and Relief, did some people create connections and bridges between this imprints?
Yeah, in the beginning there was Mitchbal Records, Jes_say, Trax, Brightstar Records, and DJ International. They all went through Ray Barney for distribution. The connection was the fact that Barneys Records was the main distribution for them all.
Which look do you have on the Chicago Scene today?
I think that the spotlight is on Chicago producers, DJ's, and artists from all over the world, and it should be, considering that Chicago has birth numerous genres, and styles. It's a very small community that spawns a great amount of talent. Unfortunately, it is still not mended, still a lot of who's the king, and who is the Godfather or the best, blah blah blah. Unhealthy competition I would say. Detroit is far more united, and works harder, together.
Victor Romeo & The Move – The Art Of Acid
You made a break of several years before to produce again what were you doing during all this time?
I didn't take a break from music; I just took a break from House music.  My passion is in music period, all genres, and styles. Being a musician also, it leads me to want to explore a bit more, outside the box. During the period from 1997 until now, I have worked with numerous artist, and labels. I worked with Death Row, with two artist Jewell, and Legail Gillespie, I worked with the Canadian rapper/artist K-OS, a single called "Take You There", I was working with an independent label M.O.B. Records, that had a huge hit with a record called The Cha Cha Slide, a few R&B artist like Johnny P., I was also involved with another Chicago rapper named Bump J. So, I was just exploring other genres.
What made you come back into production?
Well, I came back to House music because I was contacted by Deep Moves Jamie Fry in 2010 about re issuing tracks from my Life In The Underground 12".  I had numerous offers to release tracks before Jamie, and Deep Moves, but I like the integrity of Deep Moves Records.
Was it easier to release a record when you began music? What changed now?
Actually it's much easier to release a record nowadays. When I first start making records, we didn't even have MIDI! So, you had to be able to play an instrument, or sing. But in relation to digital verses physical records, I think it's much easier now also. As a matter of fact, it's so easy that it's overwhelming, the amount of music and DJ's, that exist now. Digital has made a way that any and everyone can release a record. The trick now is building a fan base.
Victor Romeo & The Move featuring Reggie Hall – I Want Your Love (House Mix)
How did you conceive your lyrics for your tracks as Parris Mitchell?
Reggie Hall, Derrick Mussashi Pittman, Waxmaster, Ray Barney, Brian Frazier, and myself… we all collaborated at times on different tracks. It was a lot of fun also.  But during that era, the risque lyrical contents were the new thing. Kind of like Nate Dogg, and N.W.A. People were all about the truth, not candy coating things. Normal everyday conversation.You know what I mean…
Nowadays lot of the artists from Dance Mania are forgotten but there is a Ghetto House revival with repress and re edition. Where do you think that come from?
Comes from the cycles that exist from a nostalgias perspective. Every 15 to 20 years or so, I personally have noticed a trend that was spawned from something in the past. Not saying that Ghetto House is a trend, but, like fashion, music is the same way. It just comes back around every so often, with a twist added by the current generation. It's groovy because that's a great way to pay homage to the previous generation.
What is your opinion about the music industry today?
It's far more competitive than before, but competitive in a different way. Seems as though because of the rapid growth of technology, artist, DJ', and producers are competing with a great edge, and a possible disadvantage at the same time, if used incorrectly. Sometimes technology can stifle the natural development of talent.
What was for you the meaning of the word "underground" when you started music? Do you think this word still has a meaning?
Underground for us, is when the culture, movement, and or music is not supported by or follows the status quo. But, it is almost inevitable to become a part of the status quo, eventually, and is a necessity to exist.
Could you tell us more about your forthcoming projects?
Yes, I have a re-issue of my DM071 "Life In The Underground » out currently, previously released on Dance Mania, now on Ghetto House Records. I also have a re issue of "All Night Long" that was originally released on Dance Mania, re-issued now on Wicked Bass Records in Ukraine. With a new track called "Bounce" Featuring Shinoby. I just finished my second EP, with all new tracks on Deep Moves Records in Berlin. The Deep Moves release is the most current to date.
With this new elements are you planning a tour in Europe soon?
Most definitely planning tours coming up this New Year 2013. I've been speaking with Jamie Fry of Deep Moves Records, who will be handling bookings, and Nazar of Wicked Bass Records, and a couple of other agents/agencies.
If you had something to do in another way, in what would it be?
I would probably have incorporated more live tours during the initial releases on Dance Mania. But, I think the fact that I was not easily accessible, probably added to the mystique a bit.
Rhythm II Rhythm – A Touch Of Jazz (Lifestyles Of The Rich Mix)
A last word to close this interview?
Keep a look out for new projects coming from myself, unreleased material with Dance Mania's Ray Barney. I also have a protégé Named Shinoby that I am working closely with currently. Some very interesting collaboration is in the works as well.
Victor Romeo – Ride The Ride Rhythm
Thanks to Victor Romeo for his time!