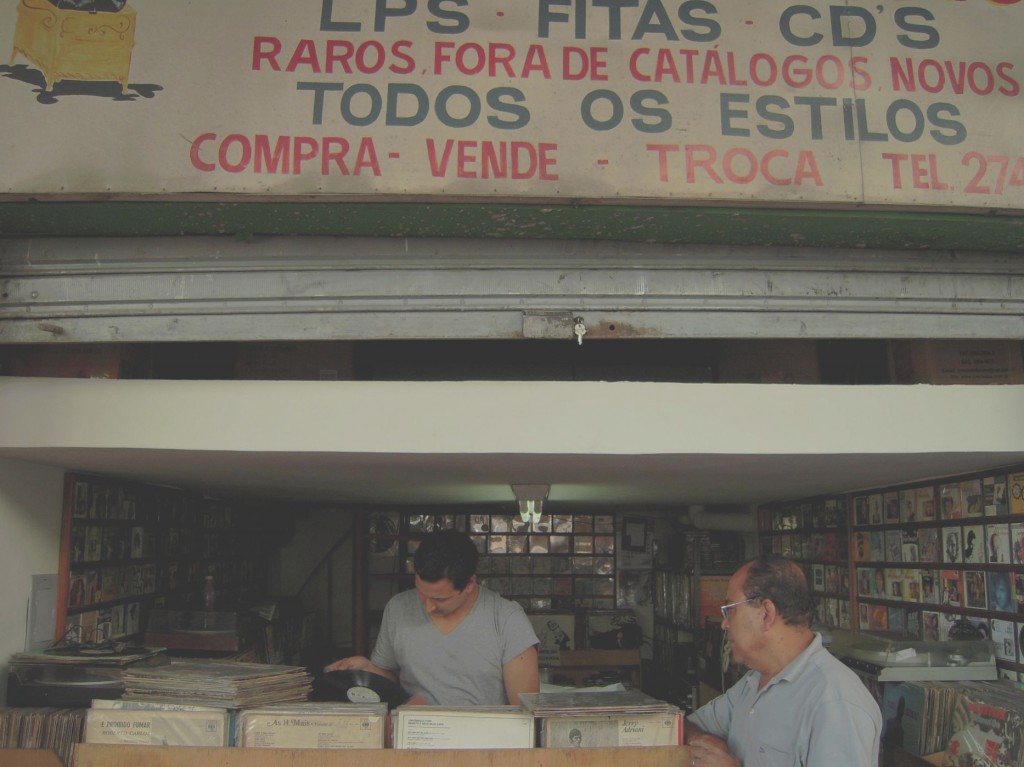 Antal, co-fondateur des labels Rush Hour et Kindred Spirits nous offre ici une superbe sélection de morceaux. Voyageur invétéré et grand amoureux du Brésil,  il a développé au cours de ces dernières années une collection parmi les plus importantes de notre continent européen. Mêlant ses souvenirs brésiliens à l'histoire au travers de chacun de ces titres, Antal nous invite à plonger dans son univers le temps d'une playlist.
Antal, co-founder of Rush Hour and Kindred Spirits, delivers a delightful selection of tracks. Genuine globe-digger, and great Brazil lover, he has been flourishing one of the most consequent records collections in Europe. Tying-up treasured Brazilian memories to each track and embellishing their listening with the story of his cross-border musical explorations, just for a moment there Antal will invite you into a tiny bit of his world. 
« J'explore la musique brésilienne depuis un petit bout de temps maintenant, mais c'est sur place que j'apprécie le plus digger. Je ne suis pas certain d'où me provient cet amour de la musique brésilienne, bien qu'il soit probablement lié aux deux grands clichés du pays, à savoir le football et la musique. Deux clichés qui sembleraient se retrouver dans mes racines puisque mes parents ont tiré mon prénom de deux personnages éponymes hongrois; le compositeur Antal Dorati et le footballeur Antal Nagy. Bien que maintenant je sois dans la musique depuis plus longtemps, frapper dans un ballon représente l'une de mes premières passions. Plus jeune, j'avais l'habitude de regarder les Coupes du Monde sur K7 et plus particulièrement les matchs opposant le Brésil aux autres pays. Quelque part entre les chants des supporters mêlés et la musique des stades je suppose que j'ai dû, d'une certaine manière, être séduit. J'ai, par la suite, régulièrement eu l'occasion de voyager au Japon avec Rush Hour. C'est précisément là-bas que j'ai rencontré des personnes telles que Yoshi de Kyoto Jazz Massive, qui avait toujours de belles sélections de vinyles, ainsi que des cassettes brésiliennes dans son magasin Especial à Osaka. Cet endroit m'a énormément appris et bien que mon voyage au cœur de la musique brésilienne soit arrivé sur le tard, j'ai le sentiment d'avoir malgré tout finalement eu la chance de me découvrir ce violon d'Ingres suffisamment tôt. Je me souviens être devenu fou lors de mon premier voyage au Brésil, avec ma copine. C'était notre premier voyage ensemble et maintenant, cette femme est la mère de mes enfants. Heureusement pour moi, mon addiction aux vinyles ne la dérange pas !
Au cours des années qui ont suivi, c'est Paulo de chez Superfly Records à Paris, qui fut le principal responsable de ma collection de vinyles brésiliens. Paulo dénichait les morceaux les plus incroyables et j'étais là, chanceux de pouvoir y accéder grâce à lui… Voilà donc l'histoire de mon dévouement à la musique brésilienne. Durant les années qui ont suivi, j'ai dû me rendre sur place à plusieurs reprises. Au moins une fois par an et parfois jusqu'à deux reprises. Depuis peu, on remarque une véritable hausse de la demande en matière de disco brésilien. À l'époque, il était facile de trouver des piles entières du 7″ « Estrelar » de Marcos Valle. C'est aujourd'hui beaucoup plus compliqué et coûteux de trouver un tel disque. Ce type de vinyle est à présent aussi rare qu'il est hors de prix. Cela est vrai plus largement lorsqu'il s'agit de disco brésilien. Au cours du dernier mois seulement, plus de deux compilations dédiées au Boogie brésilien ont vu le jour sur Cultures Of Soul & Favorite Recordings. Par ailleurs, Waxpoetics a publié deux mix sur le sujet. L'un dédié à Lincoln Olivetti – récemment décédé – et l'autre au duo de DJ's Selvagem. Chacun d'entre eux sublimant de plus belle ce bon vieux boogie brésilien. Au sein de Rush Hour, nous avons évidemment nous aussi pensé à faire une compilation de Boogie et, si l'octroi des licences n'était pas aussi compliqué, nous l'aurions probablement déjà fait… En attendant, j'ai pensé qu'il pourrait être sympa de partager avec vous 10 morceaux qui ne figurent pas dans les compilations et mix précédemment cités et qui pourraient éventuellement être considérés dans la perspective d'une compilation Rush Hour. Bonne écoute ! »
« For quite some years now I've been digging for Brazilian music. I love to do that in Brazil especially. I am not sure where this love for Brazilian music came from, although it probably got a lot to do with the two cliches of the country; Football & Music. My parents chose my name from the Hungarian composer Antal Dorati and the Hungarian Soccer player Antal Nagy. Kicking a ball still feels like my first nature even though I've been longer in music now. And so at an early age I always used to watch past World Cups on video tape; especially the Brazilian teams. I guess the close ups from the fans and the music in the stadiums must have somehow caught me. Later on, we travelled quite often to Japan with Rush Hour. It was there where I met people like Yoshi from Kyoto Jazz Massive, who always had a nice selection of Brazilian music on vinyl and tape in his Especial store in Osaka. This store taught me a lot, and although I was late in my journey towards Brazilian music I think I still was lucky to get truly into it at an early time.  I remember going absolutely crazy when I visited Brazil for the first time with my girlfriend. It was our first holiday together, and she is now the mother of my children. Luckily she doesn't have a problem with my vinyl addiction!
During the years that came after, it was Paulo from the great record store Superfly in Paris who must have been responsible for a large part of my Brazilian collection. Paulo unearthed the sickest tunes, and there I was lucky again to be able to get several of them from him… So that's a little bit of the story of how I got into Brazilian music. In the years after I went back to Brazil many times. At least once a year and sometimes twice. Recently you could see a big influx and demand for Brazilian Disco sounds. For instance, while I was easily able to find stacks of Marcos Valle's « Estrelar » 7 inches at the time. I now find it very hard and quite expensive to get such a record; and this is especially true for Brazilian disco tunes. And this is especially true Brazilian Disco tunes. In the last month already two Brazilian Boogie compilations have been released on Cultures Of Soul & Favorite Records. Also, Waxpoetics published two mixes. One dedicated to Lincoln Olivetti, who recently passed away and one by the DJ duo Selvagem. Each shining brighter and brighter on the old Brazilian Boogie sound. Now obviously, we, at Rush Hour, have also been thinking about doing a Brazilian Boogie compilation, and if licensing weren't such a complex thing, it would have been done already… So for now I thought it would be nice to present ten more tunes that are not featured in any of these mixes or compilations but would at least be considered for a Rush Hour compilation. Check it out and enjoy! »
Elizio De Buzios – Tamanqueiro
Incroyable 7″ de boogie plutôt rare. Lors de mes premières vacances là-bas, j'ai découvert un super magasin à Rio, Tropicalia Discos. Malheureusement, je l'ai découvert cinq heures avant le départ de mon avion. Je suis resté en contact avec Marcio, le propriétaire, et il m'envoyait des CD's avec des extraits de morceaux. Celui-là est l'un d'entre eux et m'a été envoyé il y a 8 ans de ça. Un track de choix !
Wicked and quite a rare boogie 7inch. On my first holiday I found out about a great store in Rio called Tropicalia Discos. Sadly, I discovered it 5 hours prior to my plane's departure. I stayed in touch with owner Marcio, though, and he actually used to send me snippet CD's with tunes. This one was one of them, which he sent me about 8 years ago. Choice cut!
Jane E Herondy – Em Terra De Cego
Aucun LP's de Jane E Herondy ne comporte ce morceau, il n'est disponible que sur le 7″. Un des morceaux séminal du boogie brésilien à mon sens. D'ailleurs, il est plutôt étrange qu'il n'ait jamais été compilé.
None of the LP's by Jane E Herondy has this tune, and so this is only available on 7 inch. One of the strongest Brazilian boogie tunes, in my opinion, and actually quite strange it didn't get compiled yet.
Ton Saga – Estrelha Brilhante
J'ai choisi ça lorsque je diggais dans une pile de 7″. Certains diront que ça devrait prendre beaucoup de valeur dans un futur proche.
I picked this up while digging and browsing through piles of 7 inches. One that I'd say might acquire a higher and higher demand in the near future.
Brylho – Se Voce For A Salvador
Un disque que j'ai obtenu chez Superfly Records. Pour moi, il sera toujours rattaché aux souvenirs de mon premier voyage à Salvador de Bahia.
One I learned from Paulo, at Superfly Records. To me it will always be tied-up to the memories of my first trip to Salvador de Bahia.
Edson Conceicao – Filhos De Ghandi
Une hybridation avec de la samba africaine avec des paroles que je ne comprends pas. Un truc vraiment bon…
Some hybrid African Samba Boogie with lyrics I don't understand. Real good stuff…
Baby Consuelo – Todo Dia Era Dia De Indio
Une reprise d'un morceau de Jorge Ben par Baby Consuelo, membre de Novos Baianos. Une perle !
A cover of a Jorge Ben song by Baby Consuelo, a member of Novos Baianos. Tune!
Claudia – Reza, Tambor E Raca
Je n'ai découvert ça que très récemment. J'ai d'abord préféré « O Cavaleiro E Os Moinhos » pour remarquer par la suite qu'il y avait cet autre morceau de boogie dedans…
I found about this only recently. My first pick was the tune « O Cavaleiro E Os Moinhos » only to find out there is this other boogie cut in there…
Octavio Burnier – Dança Infernal
Cet album a été sorti dans une série de MPBC avec des pochettes en noir et blanc. Malgré que je ne sache pas vraiment lequel de cette série j'avais entendu auparavant, Octavio Burnier appartient vraiment aux artistes à découvrir. C'est de cette façon-là que je suis retombé sur ce disque une seconde fois, pour trouver un track de boogie monstrueux. Fortement recommandé!
This LP was released in a series of MPBC with black and white covers. Even though I never really know which one of these series I might have heard before, Octavio Burnier is always a must check out. So this is how I checked out this record again, only to find a real killer Boogie track. Seriously recommended!
Jose Prates – Muji
Il y a eu beaucoup de hype autour de Jose Prates, comme Ed Motta et les gens liés au mouvement Tropicalia parlaient beaucoup de ce disque afro-brésilien. Visiblement, c'est un morceau qui possède une version roots qui pourrait également avoir inspiré Jorge Ben sur « Mas Que Nada ». C'est récemment ressorti sur Trunk Records et pour ceux qui souhaiteraient en savoir plus sur Jose Prates, vous pouvez également trouver ce morceau sur une compilation facilement trouvable en Europe. C'est un superbe track de boogie spirituel. La pochette de l'album ressemble à celle d'une mauvaise compilation et c'est probablement la raison pour laquelle il est encore en circulation.
There has been a lot of hype on Jose Prates, as Ed Motta as well as the people from Tropicalia spoke a lot about this Afro-Brazilian record. Apparently it has a roots version of what might as well have been the source of Jorge Ben's « Mas Que Nada ». It recently got reissued by Trunk Records and for those who would like to learn more about Jose Prates, you can also find this track on a compilation easily available in Europe. It's a wicked spiritual Boogie track. The cover of this LP looks like one of these bad samplers and this might just be the reason why it is still around…
Tim Maia – Acendo A Farol
J'ai trouvé ce 12″ début 2014. Il ne m'avait jamais vraiment sauté aux yeux sur la version de l'album que j'avais, je l'ai redécouvert sur un 12″ et je ne cesse de le jouer depuis. Je l'adore et bien qu'il fasse référence à un morceau de « La croisière s'amuse », c'est un véritable tube de disco soul pour moi. Un véritable monument !
I found a 12 inch of this track in the beginning of 2014. While it never really stood out to me on the LP version I used to have, it truly caught my attention on this 12 inch and I have been playing it out ever since. I really love it and although some refer to it as « The Love Boat's » soundtrack, to me this is pure Disco Soul. A heavy hitter!