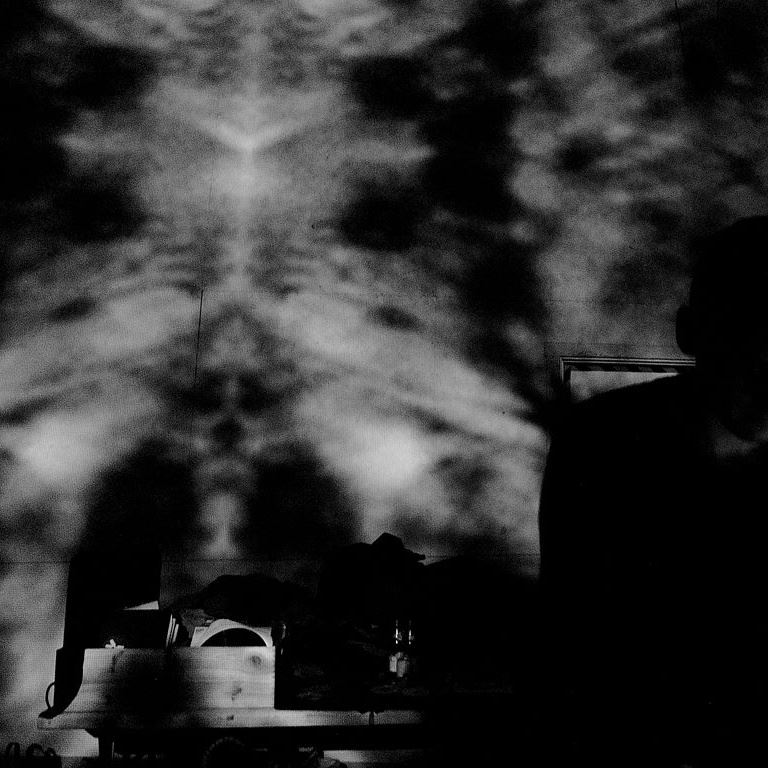 Comme vous avez pu le constater, nous avons décidé pour 2013 d'adapter certains articles en anglais de façon à faire profiter à nos amis anglophones de nos découvertes. Aujourd'hui, nous vous proposons une interview de l'incroyable Abdulla Rashim, DJ & producteur originaire de Stockholm qui a signé l'un des morceaux de « Textures », prochaines VA du tout nouveau label Concrete Music. Amis francophones, ne nous fuyez pas et laissez-vous porter par cette techno envoûtante !
Abdulla Rashim may be part of these new puzzles of techno sphere. A handful of its assets maximum, on his eponymous label « Abdulla Rashim Records », a name that surprizes, a confidential web communication with only visual a dark photos, a brown man, tan skin, with a big moustache and a résumé showing employment at the Center of Dubai Aerospace. These elements aroused some interrogations. During the month of Ramadan, Abdulla Rashim played openly for a set of 4 hours of Techno on the Concrete ship. We asked him a few questions.
 – Hello Abdulla can you introduce yourself?
Abdulla Rashim : I'm just a regular guy who likes music.
– You produced 3 records on your own label with no information; can you tell us how you fell into techno?
Abdulla Rashim : I'm not really sure when I started get in to producing myself but one of my first contacts with electronic music was a party in Spain when I was a teenager, a friend took me to a club in the middle of the desert and we stayed until the following day. What i was hearing was something completely new and after that i started to get more interested in electronic music
– So how and what did you start producing, djing?
Abdulla Rashim : When I started producing music I didn't tell anyone for a long time. I was never interested in playing in clubs until a friend invited me to play with him when we were really drunk. The following weekend we did the show and after that the secret somehow came out
– Now, do you prefer to play as a dj or live as a performer?
Abdulla Rashim : I like both, but I approach them totally differently. I collect vinyl and I really like to play records. Doing live sets is fun as well but it takes a lot of time to prepare everything. Every live show is unique as I really quickly get bored of what I'm doing I could never play the exact same set twice.
– Are you also quickly bored of your production? How do you decide that at track is ready to be released?
I think it's the same for everybody. When you put a lot of time in to listening to the same sounds over and over and when you're there and you get the feeling that it's finished you never want to hear it again.
– Do you feel comfortable with your music?
Yes. Otherwise i wouldn't do this. But that does not mean i want to listen to it.
– When you say that each of your live set is unique, how do you approach this aspect of your show, is there a part of improvisation in your lives?
Abdulla Rashim : Yes, last year I started to include more live elements than just the x0xb0x (tb-303 clone). For example a small analogue synth and an 808 clone, it's fun to have more stuff to play with on stage but I find it hard to do too much improvisation when you're just one person playing.
– Is this new way of playing lives opened doors in your way of producing your music?
Abdulla Rashim : No, not really. What I do in the studio and how I approach a live set is two different things.  Mostly in my live sets I play unreleased stuff that probably will stay that way. I like to give the people that are there to listen something unique and not just what they already heard.
– Looking at your schedule in previous months, we noticed that you play often at the Boys Club, what is your relationship with this place?
Abdulla Rashim : Boys Club was a group of friends who did parties together. Nowadays I mostly organize parties myself. I like to invite people to play and taking on that role as an organizer, it's nice to not always being the artist.
– Your career took quickly a good stature, how do you handle this way of life, travelling everywhere, being a part of the party industry. Is that easy to stay in the real world?
I'm really lucky being able to work with music for a living but i've also been a part of the « party industry » long before i started traveling myself so i know how it is. What's real and what's not.
 – What are the people you feel close to the Techno scene today?
Abdulla Rashim : I have a few good friends in Stockholm. That's about it.
– In Stockholm there are Bleak, Skudge you, can you explain what is happening there in Sweden?
Abdulla Rashim : When I got in to this « scene » a few years back there was not a lot happening in Sweden. The Drumcode guys had took off years before and there was a gap for a new generation to fill. In a way I think we (the new generation) had to build everything up again together with the few people that were still here and it really worked
Now we have a lot of good parties every weekend and there are big artists playing in different venues all the time. That people start doing music after going to parties is just a natural thing. For me it's also comfortable to live here because I don't have to think about other things. I just go to the studio and work; it's a nice atmosphere and not too much stuff distracting you. It's really cool to see this revival happening.
Albert van Abbe – NCS 5600200512 (Abdulla Rashim Remodel)
-Why did you choose to call your label Abdulla Rashim?
Abdulla Rashim : I came to a point where I just grew tired of stacking up music in my studio and not doing anything with it. The intention was always to getting some stuff released and when I decided it was time. I just did it myself. I could never dream of this kind of response. People actually liked what I did so I just kept on putting stuff out.
 – You released your third EP on Prologue, so what made you decide to leave your home Ep for someone else?
Abdulla Rashim : I had invited Donato Dozzy to play in Stockholm a few times and then I also met Neel during the Labyrinth festival in Japan. We became friends and when I came back I guess they had talked about me because Tom (Tom Bonaty, the label head of Prologue) called me and asked if I wanted to do an EP for the label and join the booking agency. I really like these people; it's a nice family.
Do you listen to other music outside the Techno?
Abdulla Rashim : I don't listen to that much music at all but when I do it's mostly ambient or dub stuff from people like Outer Space, Brian Eno and Burning Spear.
This is your second date in Paris, what are your impressions of this city?
Abdulla Rashim : I really like what I have seen of Paris and what's happening here (there). I've started working with Dement3d and these guys are really cool. It's not often that I meet people like this who share similar ideas about music and life.
Finally, what are you working on now?
Abdulla Rashim : I just finished a lot of remixes. I'm looking forward to the release of my remix for Polar Inertia on Dement3d as well as one for Bee Mask on Spectrum Spools. Other than that I'm working with Svreca and Semantica. There will be a single sided track from me and him coming out in February and later this year an EP with my friend Axel Hallqvist on Semantica. Other than that, the fourth EP on Abdulla Rashim Records is on its way.
I'll also continue working with Prologue; a remix for Terence Fixmer is set for this spring.