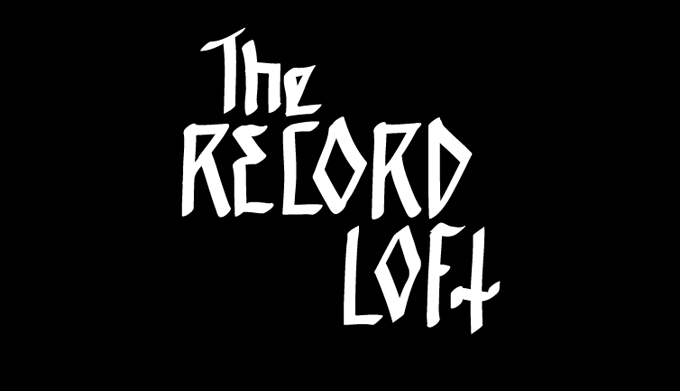 Imagine a place potentially gathering more than half of your Discogs's wantlist in terms of house & techno et even more. A place where it's possible with a cigarette on your lips and with a beer in your hand and where almost everybody is treated the same way. The Record Loft is one of these places and owes it success mostly to the mouth to ear from worldwide diggers and to the large selection it offers. Regarding our partnership with the place, which is slowly but certainly becoming an institution in Berlin's landscape, we thought it would be a nice occasion to ask some questions to the founder Christian Pannenborg in order to have a better description of his vinyl shop's philosophy.
– Hello Christian, Could you present what do you do in your life?
I need to go back when I was young. One of the most interesting things for me was the salsa record collection of my father. I destroyed so many of his records; I made him cry with few of them. My mother had the obvious Kraftwerk Records that I was listening way too much. My favourite song at that time was Kometenmelodie on the Autobahn LP. As a child, I used to buy a lot of sweets with my pocket money but it quickly became records that I could not even afford. In the beginning, it was De La Soul or Run DMC. Lot of people of my generation saw the CD era coming. To be honest, every cd I ever had in my life broke in no time. So I got even more records.
There was a point where hip-hop could not give me anymore what I needed. When it turned more aggressive, I switched to House music, which was very strong at that time. I started to collect Strictly Rhythm records, and I came to djing in south of Germany quite soon. From there, it was an on-going voyage collecting even more and playing more music. At a certain moment, House music grew a little stale, 1997 to 1999. That was the point when I moved to Berlin; at that time the city had a clear, distinct sound. It was house music still but less soulful and less groovy without the bongo and afro orientation. I went out of that starting to dig for disco records. It was a point where it all went halo. It's the kind of records for which you needed to travel a lot for. It was full of little things that you needed as a dj.  I just went full on into a habit of digging and collecting more and more of these records. It's the moment when I started to frequent a lot of record shops, I got involved in trading records and finding records for other people. It's the moment when you start to see the record more as an item rather than just something that you want to put in your personal library.
From visiting these record shops from the mid nineties to now, I was more and more sure about what I wanted to see in a record shop and what was the bad part of a record shop. When we went into the concept of opening this place, I had already spent a lot of time to think about what we would not do. And that's where we ended up now. More a pirate base than a record shop with tons of loot and stuff that arrives. It was not about having every record in its little sleeve with its little text and being priced as a rarity; we wanted more a place where people are finding stuff and rather to have a distinct profile. For me, it's important to have a place that is the home of the record where you can go, and you are not treated like a little dwarf coming to the temple, but you can't speak with the priest because he is too busy. It's a non-sense, and it belongs to the history.
Now the knowledge is out there, and you can obtain it. Everybody can find out about records, and a record is an emotional container from an artist. There are no such problems as with wine. In this field, there is a gap between connoisseurs who can understand a 15 years old bottle of wine and newbies who can't state all the nuances. It's not like that with music. The records talk to you or not it's not that one guy could have an extraordinarily elaborate feeling of the records and the other guy does not. The record gives the same story to everybody.  That's why everybody should be treated the same and also why the seller has no reason to create barriers between him and the customer.
I had another idea to push with the people that I am working with, which was to create a library, you know where people that are working there are there to help you. « Maybe if you're looking there », « If you like this you probably gonna like… », « In this section you can find this… », « Do you need a coffee? », « How are you? ». The people come here with certain urge and desire. You have to help them with this desire. A record shop is not an H&M.
That is also the reason, why we set up those enormous speakers; I could not have something like that at home. I am lucky with my apartment because I live in Berlin for a long time now, so I have an « Ok » size living room, but my girlfriend would never allow me to have those washing machines size speakers at home. I am not sure she would support the amount of music that I would like to listen to every day. So, I thought what place than a record shop to have this beautiful seventies System PA System on which you can listen to the music loud. We are dealing with club music, which is our number one focus. I don't want to cater some obscure collectable Krautrock records or some Venezuelan Rolling Stones pressing or things like that.
The Record Loft is a store for DJs and for the people who understand this music and the way to present it to the people in order to make them feel this kind of emotion; consequently, you need the kind of sound system that you could find in a club. If you have just small speakers or if you only listen to headphones you can never have the body feeling of a sound system. That's why I try to be careful about the sound system I am building up. The noise in the back of the shop is my guys refurbishing old amplifier. I want to go piece by piece into a 70's disco sound system. But you can't do everything at the same time. I underestimated the number of micro-steps there is to come from one step another and how much do you have to do in parallel without loosing touch with everything on the process.
– When this place opened?
We have been working on this for quite a while, and we have done something else before which was similar to an office. It's open for almost half a year. I feel very blasted. Every day at home I have to tell myself that I am a lucky guy. I was thinking a lot about the things I would like to do in the place. I was not sure it could happen. Now I don't want to convince me that I've done everything right because there is so much luck involved. People spreading the word to the others… It's the people that come who make the place. They bring me the opportunity to bring new records; it's a virtuous cycle.
– How do you feed the shop?
Most of the people, I deal with, are quite happy to deal with me rather than somebody else because my interest is more to provide records for a new generation of people than to make records more expensive. I am working with Dj Richard, and we looked into Discogs and there was a record shop selling a record of his label, which was released three months ago for 70 euros. Both of us knew that they just bought it, they kept it in the back and know they're trying to sell it for 70 euros. A record shop is not secondary market it's the first market. I think that there are a lot of people selling me records that are happy to know that I am not trying to keep it for small circles and rarities hunters.
In the end, I try to do this with an ideology. I am a dj-vinyl-ideologist on a mission trying to get stuff out and make this world a bit more full and diverse.
– How do you use the Discogs pricing system in your shop?
That was a big source of debate. We are starting at 5 euros that I think it's ok. If you want to buy music and records below 5 euros, I think it's maybe downgrading the artistic. Side of music. We are maybe thinking to lower the starting price to four.  The idea is to generate prices from Discogs as a standard, I know that all the records shop owner are using Discogs from one way or another. Their pricing derives from Discogs. You can look at what is the cheapest German price or the median price and add the shipping on top.
I wanted to have a very open and transparent way to fix a price for the customer. The idea is you can't get the record cheaper for a decent quality in Europe. I hope that people understand this system. I saw some discussion on Internet in which digger's were discussing how they could come to the shop and to check, put the records for sale on Discogs at a cheap price in order to get a cheaper price from us. I think it would be filthy but whatever…
People are always searching for things cheaper, and records shops are always to sell more expensive things. These are two opposite movements I want to avoid. I don't want to bargain with people about which records they can find cheaper in this place or this place. In the end, it turns to be the buyer vs. the seller.
You would never go to the supermarket to trying to hustle with the cashier: « This yogurt, I can give you 70 cents for it! ». If you had a street full of supermarket, and everybody would be selling this Yoghurt for 70 cents, and one would try to sell it for 1,20 it would also not work. Nowadays, we are facing this situation with the vinyl market speculation on the old and new. Everybody is always trying to bargain. I think we are trying to work against that. You should be going out with a smile and not with the feeling to escape of a hostile situation or swim with the sharks.
– How did you choose your team?
 Working at a record shop is not a career because you can't work here and expect a high perspective of evolution. It should not be in your mind to work in a record shop for the rest of your life. It's more about making contacts and first of all expanding your own knowledge and hanging out in a friendly environment rather than flipping burgers at McDonalds. At the moment, we are expanding our team but we are looking for people that are truly participating in this music scene, creating their own footprint and need to pay their rent somehow, helping them to develop their own career with providing a bit of security. Access to records is always nice, and you can sharpen your musical profile. We are also looking for nice people, with who we can spend good time especially when we interact all together every day. You need to be a happy person. You have to make people feel happy.
Sometimes I see people coming and they're looking a bit scared. It takes some energy to let them feel comfortable. If you have to do that 40 times a day, you can imagine that it takes a lot of energy. You have to do the same also with the people who come 15 minutes before the shop closes. It's important to not be this crab, closed in its own little shell standing behind the counter and not even paying attention to the customers.
– So, in addition this friendly posture to make people feel comfortable, what makes a good seller?
It is something I am thinking about these days, selling more records is a very delicate things. I saw people in other record shops around Europe going to customers saying: « You should have this! » « This is a good record » « You should take this » « Come on, It will be sold out soon » « Pick this, and this »…
I want to avoid this view as much as possible because people should find their own records. I think the only way to expand your own musical knowledge considerably is by learning how to decide for yourself to build your own taste. It also happens by taking wrong decisions. It's also part of it to buy the wrong records, it learns you what you don't like and after you'll be able to target easily what you like. I think the selling  thing is something I am still learning and thinking about. You ask the customer, what are you listening to, what do you like and then I can pick a bundle of 50 records for you and from there we can go on but seriously it should not be about emotionally pushing people to buy records. It's against the mindset of the shop.
The records sell itself; it's not me or the sellers doing the work its the artists and their music selling to the customers. It does not mean that there is bad music or that you don't have a taste. There is a big misconception about what taste is. When I look for example to my grandmother, she listens to german schlager music, not at all sophisticated, like Bavarian march but when I see here listening to this and how her eyes are looking and how she is smiling on the beat, it's something I don't get. It's my inability to understand her emotions coming from this sound. It's my default. Taste should not narrow you in, but open you. You can see it in every persons life. You can have a punk phase maybe sooner in life you will be only about Jazz, and when you are 60, you'll dedicate it to classical music. It's a cycle of perception. It's easy to be arrogant about music quality and musical emotion you can have from the music.
– Do you filter the collection you buy?
There are several ways to do so. It depends on a lot of factors. The people that were listening to Techno when it came out, they normally have already selected collection and nowadays most of the collections I see have been filtered. They thrown away all the promos from the 90's If I had to filter I try to but I want to get as much records I can, even things that don't sell or things I don't mind or if it is out of range. It worth's a try. If we find somebody who likes it or somebody who anticipates it, that's why I am doing it. There are tons of records accumulated with which I don't know what to do, but maybe in tens years I'll be recycling all those records into something else (laugh) like lamps or fruit bowls, and I could do this for 40 years. It could be a retiring plan (laugh).
There are so many records out there, especially in house and techno. For me, it's the most interesting because every collection tells a different story you can distinctly see how the people were, how they developed. I try to talk a lot to the people selling me those collections to be able to understand how the scene was like. Most of these people are between 40 or 50, I am trying to gather more and more insights about what was happening during the 90's and how the changes happened.
– How do you see the future Record Loft's developments?
This subject is closely connected with the people we try to integrate to our team. I am not interested to be a classic record shop. We try to build good relationships with the local promoters to push their things and to be updated..We want to take part of the cultural development of the scene and to feed the different actors of the scene with music. There is so much music released, that people don't know about. They focus on the few Kaoz Kerri Chandler records or the Jeff Mills and Robert Hood releases, but there was so much interesting music released at this period that if we can open the mind of the people about it, I am happy with it. I think it's nice to push young and old dj's to escape these big names and to get them out of their comfort zone, to not play only hits.
We plan on buying a dubplate machine, which could allow us to release music in low quantities that could allow avoiding the classic path of music release, which is pretty long. You would not have to wait half a year to release music. It would be almost instantly released from one day to another. It's just about doing things faster.
– In the end, this would be on the Internet, and it will obey to the market and speculation's laws of Discogs…
First of all, we still have to make it happen, it's such a technical thing, it requires specific skills to use this machine and to master the production process. I need to find the right person before to develop that myself. I am thinking to produce runs of 45 to 50 copies of something. Then it would be unlimited runs if somebody asks we would go in the back of the shop and press it and to get it right here in order to lower speculation's risks. I totally see the problem of little pressings; it won't be good for the artist and anybody wanting the records. We can't do a « Breaking Bad » business like they were doing with their 24/7 Crystal Meth. If the demand gets crazy then we could imagine something else. If it grows too much then we should imagine another system I am not closed to anything. I am ideologist but not reactionary. I imagine this as a platform for people to be creative and productive. I don't know, but I see it with a lot of people as Soren (René Audiard) who's working there. They are motivated and talented. They produce so many things, and it takes them so long to be released. For the producers, every record has a lifespan, and you have to let it go. You're pregnant but sooner or later you have to give birth otherwise every little track you make is hurting you because it's there in your bowels. Every release makes the artist more confident and motivates the artist to work more. The whole idea should gravitate around what happens to the artists and not about what happens on Discogs. I am more scared about finding high quality music every week to push out music than to the Discogs perverse price effects.
– The last word?
Strange world that we are living in. We are experiencing the same thing with records than with digital productions. Vst's were invented few years ago but in the end we are always going back to old and traditional analog process, I think and hope we will see it with other stuff as well.