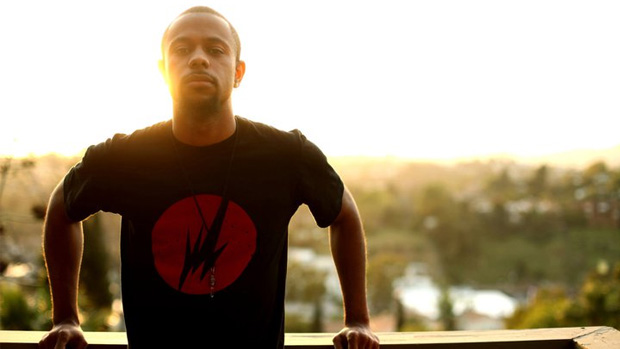 Mono/poly comes back more vigorous than ever with Golden Skies, his full-length sophomore album, four years after the psychedelic tones of Paramatma. Charles Dickerson (his real name) has been offering us a deluge of glitch-tinged hip-hop. After spending several years perfecting his style, the californian producer, who is close to Flying Lotus and the Brainfeeder team, brings us his second opus. It is a sonic and dreamlike journey, a worthy successor to Dickerson's previous album.
The aesthetic is still very "new age", and Mono/Poly gives room and space to ethereal keyboards and celestial atmospheres in this album. The tracks come one after another, without leaving any blank between – as if to tell the listener that he got involved in a complete musical journey, to tell that he will have to travel the whole distance to fully appreciate it.
Dickerson maintains his hip hop sensibility, driving it towards new horizons, through his spiritual jazz and 70s soul inspirations. The tracks display a rich composition process, and the structure of the album is equally complex, alternating powerful electronic take-offs with ethereal interludes.
The opening track "Wind of Change" explores the ambient, hip hop and acid jazz domains, giving us the mood of the album whilst demonstrating the stylistic diversity to which Mono/Poly attaches great importance.
The first track unveiled by the californian producer, "Ra Rise", offers us a meditative and soothing flight.
"Golden skies" and "Light Age" remind us of the pioneers of new age electronic music, such as Mort Garson or a futuristic Isao Tomita. The title of the track "Alpha and Omega" can be seen as a reference to Boards of Canada, and so can its content: the track' strange keyboard lines and singular atmosphere remind us of the Scottish duo, while at the same time being altered by Dickerson's touch.
Another remarkable track is "Empyrean". Featuring some ethereal vocals by Mendee Ichikawa, it displays some Massive Attack features, although it brings a modern and refreshing nuance to it.
The album ends with "Gamma", a psychedelic soul/jazz piece, featuring Flying Lotus' regular bassist, Thundercat.
While listening to Dickerson's latest opus, we can't help remembering Sun Ra's work – this album is a worthy legacy.
Golden Skies really seems to fit into the history of new age music. By doing so, Mono/Poly's music falls within the heart of its time, with a noteworthy precision. Blended with Dickerson's hip hop and jazz roots, it creates a new kind of psychedelic-tinged trip hop.
We can only wonder what Mono/Poly is going to give us in the coming years!
Mono/Poly – Golden Skies (Brainfeeder/Ninja Tunes) out now.
4/5