I met Jon Attend in spring 2011 at Zero Zero. At that time, he told me about his imprints Salon Records. Months later was happening a memorable live act from Antislash during a party at Club 130. It's well known, it's best to sleep on it. Since this night Phonographe Corp always takes care of the label's releases always evolving between Berlin and  Paris, between the living room and the clubs. Few days ago, Jon had the kindness to give us a mix which will be enjoyed by Trippy House lovers. It was pretty obvious to include this set in this long line of Phonocasts. Good listening.
Download the Phonocast : Directly/ Via Itunes
Salon records on Facebook
Playlist :
1.Soundhack 2 – A2 (Soundhack)
2.Krisp – Truckstomp (Sex Tags Ufo)
3.Roger '23' – Looking For A Title But I Haven't Found One Yet (Playhouse)
4.DeWalta – Tetraeder (Meander)
5.Pantytec – Instant Orient (Perlon)
6.Dj Slip – Starbuck's Pebbles (Tape)
7.Essa – Under Construction (Paper Recordings)
8.Kenny Hawkes – Ashleys War Version 1 ( Luxury Service Recordings)
9.DeWalta & Shannon – Slicks (Meander)
10.Norm Talley – The Paradise Valley (Dockside Records)
11.Le Grande Boofont – Very Good Virgin ( U-Freqs)
12.Gluck – Pocket Science (Minibar)
13.STL – That Mnml Track (Perlon)
14.Schaltrax – First Heartbeat (Schaltrax)
15.Quitefrut – In A Way (Telegraph)
16.Melchior Productions Ltd – She Like (Perlon)
17.BLM & MarcAschken – Silent Sleeper ( Fear Of Flying)
18.Roman IV – La Paloma ( Runningback Records)
19.Sand 11 – Next Bus (Erobique Remix) (Ladomat)
20.Patrick Puslinger – Fat Fast (Houztekk Records)
21.Jackbox – It Should Be Deep (Salon Records)
22.SIlent Green – Low Pt.1 (Playhouse)
23. Peter F. Spiess – Kinderspiele Im Glas (Klang)
———————————————————————————————————————————————————–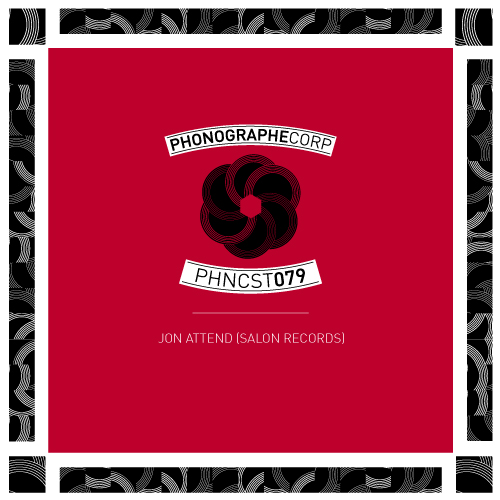 J'ai rencontré Jon Attend au printemps 2011 au Zero Zero. Il m'avait alors vaguement parlé de son label Salon Records. Quelques mois plus tard avait lieu un live mémorable d'Antislash lors d'une soirée organisée au club 130. C'est bien connu, la nuit porte conseil. Depuis, Phonographe Corp prête toujours une oreille attentive aux sorties de ce label, à cheval entre Paris et Berlin, entre le salon et en club. En témoigne le large spectre musical séparant le dernier album de Markus Schatz et l'Ep d'Antislash. Il y a quelques jours, Jon a eu la gentillesse de nous offrir un mix qui ravira les amateurs de house bien trippée. Il apparaissait évident de l'ajouter à la longue lignée des Phonocasts. Bonne écoute !
Télécharger le Phonocast : Directement/ Via Itunes
Salon records sur Facebook
Playlist :
1.Soundhack 2 – A2 (Soundhack)
2.Krisp – Truckstomp (Sex Tags Ufo)
3.Roger '23' – Looking For A Title But I Haven't Found One Yet (Playhouse)
4.DeWalta – Tetraeder (Meander)
5.Pantytec – Instant Orient (Perlon)
6.Dj Slip – Starbuck's Pebbles (Tape)
7.Essa – Under Construction (Paper Recordings)
8.Kenny Hawkes – Ashleys War Version 1 ( Luxury Service Recordings)
9.DeWalta & Shannon – Slicks (Meander)
10.Norm Talley – The Paradise Valley (Dockside Records)
11.Le Grande Boofont – Very Good Virgin ( U-Freqs)
12.Gluck – Pocket Science (Minibar)
13.STL – That Mnml Track (Perlon)
14.Schaltrax – First Heartbeat (Schaltrax)
15.Quitefrut – In A Way (Telegraph)
16.Melchior Productions Ltd – She Like (Perlon)
17.BLM & MarcAschken – Silent Sleeper ( Fear Of Flying)
18.Roman IV – La Paloma ( Runningback Records)
19.Sand 11 – Next Bus (Erobique Remix) (Ladomat)
20.Patrick Puslinger – Fat Fast (Houztekk Records)
21.Jackbox – It Should Be Deep (Salon Records)
22.SIlent Green – Low Pt.1 (Playhouse)
23. Peter F. Spiess – Kinderspiele Im Glas (Klang)